With inventory levels at an all time high and the federal Tax-Credits for home buyers now behind us, the Huntsville Housing Market has entered a strong buyer's market phase.
The most recent Tax-Credit had the effect of accelerating home sales into the 2-3 months leading up to its expiration (June 2010), in effect producing artificially high home sales.
This same effect will also likely drive the 2-3 months following expiration to artificially low home sales, and this is exactly where we are within our local market. The real market is somewhere in the pre-tax-credit and post-tax-credit averages.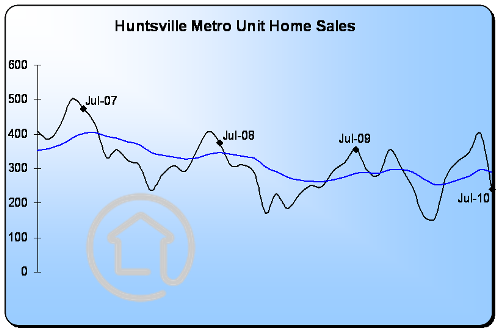 The Raw Numbers are a bit Scary
Single family home sales in the Huntsville Metro Area declined -40% when comparing last months sale's of 401 transactions to the 240 closings of July 2010. Even when seasonally comparing July's home sales with last years results the year-over-year decline is still an astounding -32%.
However comparing June-July of 2009 and 2010 respectively may be the best approach to measure current market performance while attempting to mitigate the recent tax-credit effect: During the 2 month period (June-July) of 2009 there were 671 closings and in (June-July) 2010 there were 650 transactions, thus the year-over-year comparison yields a 3% decline and this likely is an approximation of where the real underlying market is performing.
Inventory levels in the metro area ticked up an additional 29 units this past month, to again hit a new all time high of 2846 homes for sale. There definitely appears to be many more sellers than there are buyers to go around, adjusting absorption rates up to a very high 11.86 months of supply.
Subscribe to our RSS-Feed for Regular Updates
To you Huntsville home buyers out there, with record low interest rates and record high inventory, this is your kind of market baby! …and I anxiously await to see what you will do with it: Will sellers retreat bringing inventory levels down to more moderate levels?, Will prices adjust lower as we head into the fall and winter?, …only time will tell but you can follow it all here on our RSS feed.
- Elizabeth