Inventory figures for Single Family Homes within the Huntsville Alabama Metro Area have topped 2800 units (i.e. active listings) for the first time since such figures have been recorded.
The raw inventory of real estate listings have been somewhat 'seasonally flat' over the last 2 years and thus have not been a regular focus in our market updates. However with inventory levels of 2815 and 2801 units for May and June 2010 respectively, and given that this spike in levels from December's 2229 units represents an ~18% increase in available homes for sale, our attention it has!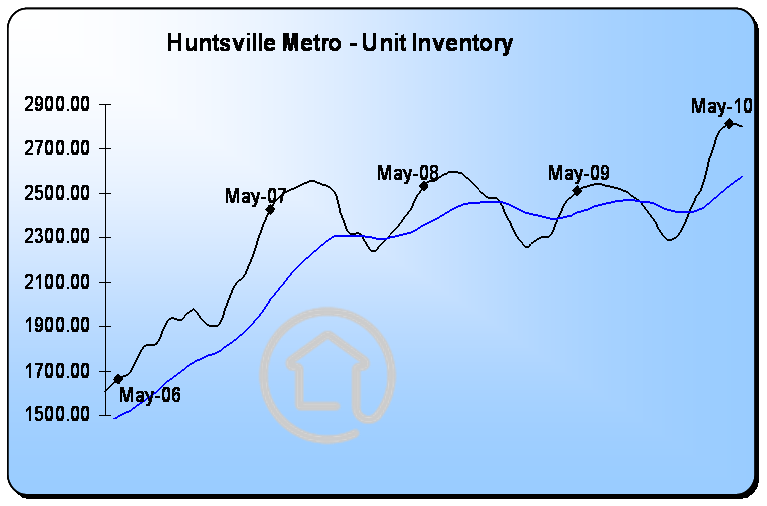 Surrounding Context Important
Believe it or not, the real estate inventory chart above makes complete sense, if one puts the figures in perspective with current events. During the national housing boom (2004-2007) local inventory paced ahead with a steady increase in response to demand.
However on the bust side of our nation's financial crisis, local inventories remained relatively flat during 2007-2009. Moreover when one couples the Home Buyers Tax Credit of 2009-2010 with the  Redstone BRAC Relocation peak of 2010-2011, it becomes logical that inventory levels may rise in anticipation of these events. Thus here we are!
Absorption Rate Inventory Concerning
The raw number of real estate listings for sale is one inventory measurement, however absorption rate is another. Absorption rate inventory calculations couple inventory and sales statistics while computing inventory as a 'Months of Supply' figure.
There are a number of ways to calculate this measurement since one of the components is a 'prediction of future homes sales'. So we will take a conservative approach using last year's sales volumes for the next 3 months, since inventories have a normal falloff during the late fall and winter, and we will assume sales will remain flat compared to last year.
Quarterly Seasonal Absorption Inventory:
Today's Inventory (2801)/Last JulyAugSept SalesPerMonth (310) = 9 months of supply
Nine months of (conservative) supply is where we normally begin to see price-action, so something on the supply-demand curve will likely give over the next 3 months:
Overpriced homes won't sell or will be removed from the market
Sellers just testing the summer waters will exit the market
Prices may decline if significant numbers of sellers must sell
We of course are not sure which way the market will head, although we do know we are at a pivotal point; sellers may retreat or buyers may materialize. In either case you can pick up the info right here On Our Feed, because I can assure you we are watching very-very closely and will update our readers with related market events as they occur.   So stay tuned in!
- Michael