Heehaw, …I truly do get so excited when I have the opportunity to write about a neighborhood that I truly deep down love and Huntsville's Blossomwood Neighborhood is just such a neighborhood.
If you are anything like me, you simply love established neighborhoods, near the Historic District, with large tree growth, gently sloped, but steep at times winding roads. Thus the Blossomwood Neighborhood just radiates that, oh so, warm feeling of just being at home. No wonder, its on the must see list of all of our relocation clients, so don't dare miss it on your next house hunting trip.
View List of All:  Blossomwood Homes for Sale
View Map of:  Blossomwood Homes for Sale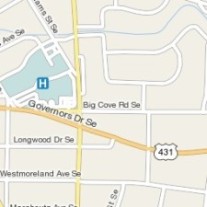 The Blossomwood Neighborhood is not a single recently built  subdivision like so much of the Huntsville area, but is the culmination of several decades of growth from the downtown area south and then east.
It is located just south of Huntsville's designated Historic Districts, east of the Medical District, and north of Governors Drive before topping Monte Sano and heading over into the Hampton Cove area.
Now when I say that there is a home for everyone in Blossomwood I am not exaggerating, because some of the Historic Homes as well as some new construction to the east, as you go into the base of Monte Sano, are generally more expensive and upwards over a $1,000,000 and they often times provide gorgeous views back down over the Heart of Blossomwood and downtown Huntsville.
Nevertheless, within the more more historic areas of Blosssomwood where renovation is common place and styles are turn of the century bungalows, property with homes can be purchased starting from the upper $100k range and there is currently a lot of renovation underway.
This is truly bargain hunting territory for those with the right budget, because just a few blocks southeast of the National Registry of Historic Homes neighborhoods of Five Points, Old Town, and Twickenham lies our beloved Blossomwood at much lower price points.
Why not make your own appointment for a personal tour of the area, by emailing me or simply giving me a call directly at 256-425-1659 …this is really fun stuff so lets get it on!
- Elizabeth