Wow, its been busy around @Homes Realty over the last few weeks, and It is with great pleasure that I am now able to introduce our newest members of the @Homes family; Jessica and Jason Marshall.
We have been working with the Marshall's on a referral basis over the last several months in the Morgan and Lawrence county areas, and I can truly say that they are some of the most competent, ethical, and generally just the nicest folks you'll ever have dealings with.
Moreover, it will certainly be great having another independently owned and operated @Homes Franchise Office so near by, to share resources and assist one another in keeping our customers fully informed on our respective real estate markets.  So look for @Homes Hyper-Local Content to now extend its coverage into both Morgan and Lawrence counties. As Jessica and Jason come on-board you will be able to follow their activities and local content on Facebook, Twitter, and on their own Hyper-Local Real Estate blog at @HomesDecatur.com.
[slideshow id=67]
Jessica and Jason Marshall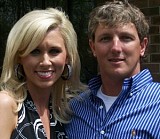 @Homes Realty Alabama
401 14th St. SE
Building 3
Decatur, AL 35601
Jessica@athomesrealty.com
Jason@athomesrealty.com
256-340-0004