Tracking Huntsville Home Prices can be a bit tricky if one does not play close attention to the dynamics of market mix. As we reported in our recent Huntsville Home Sales market update the market mix for March 2010 showed a strong increase in home sales in the upper price ranges when compared to March 2009.
The natural result of such a market shift is that average and median home prices would naturally increase even if true underlying home prices were static or even slightly lower. This is just the nature of averages, useful but they require greater scrutiny.  And such is the case when one looks closely at year-over-year Huntsville Home Prices for March 2010, the average home price rose +6.8% from $180,608 to $193,000 and the median home price rose +3.6% from $165,000 to $170,900.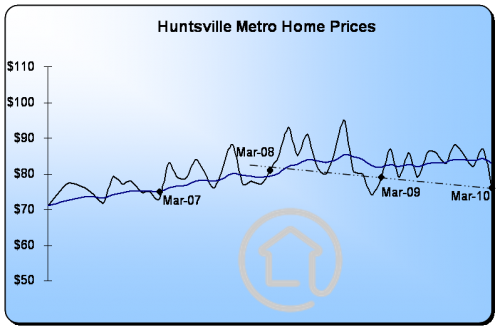 While certainly not immune to market mix, Average Price per Square Foot does have a tendency to level the playing field a bit and the use of a 12 month moving average over a number of years also contributes to a fair top level view of current Huntsville Home Price trends, as typified in the chart above, the dark blue line being the 12 month moving average. The moving average shows a steady and gradual increase of home prices into 2008 and then a moderate decline and flatting of homes prices since the later part of 2008.
When comparing March seasonally over the last 2 years we see a moderate year-over-year decline of ~5% as illustrated by the dashed trend line on the chart above. However when it comes to analyzing home prices one must dissect the numbers even further to gain additional insight. One method is to break the year-over-year performance down into different price ranges as typified in the following chart:

So what do these numbers tell us? Even though average and median home prices were up for the month the underlying market dynamics tell a different story. Remember we are looking at closing prices for March and that these closings represent contracts and deals being made 30 – 60 days earlier during January and February. Thus during these very slow months home buyers and sellers were busy making deals, especially in the $250k – $400k price range where prices declined significantly when compared to the previous year.
Another key metric that must be applied when determining your selling or offer price is of course location, location, location. Thus it is very important prior to listing your home for sale or determining an offer price when purchasing, to consult with your real estate professional and perform a Comparative Market Analysis (CMA) on your particular home of interest. If on the other hand, you are still shopping for a Huntsville Realtor, why not email or give us a call 256-425-1659 because we would certainly welcome an opportunity to interview for your business.
- Elizabeth