Your Back! …Huntsville Home Buyers awoke from their winter slumber and returned to the market in March with a vengeance. Wow, what a difference a beautiful spring month and a soon to expire home buyers tax credit can make.
After hitting a 5-year low of unit single family home sales within the Huntsville Metro Area this past February, homes sales rocketed 73% upward from the 155 closings of February to 269  units sold for the month of March 2010. When looking at the results through the lens of seasonality, this March also closed higher than a year ago with Huntsville Home Sales up 7.6% year-over-year. We can certainly use a few more months like March 2010.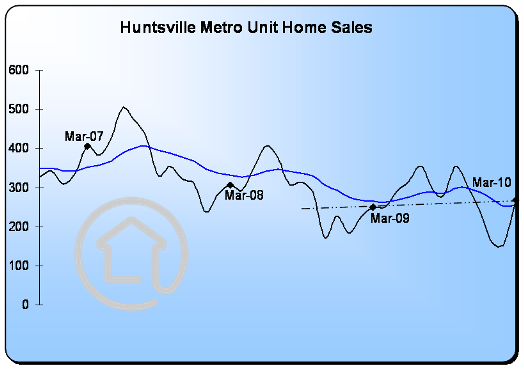 Not only have Huntsville Home Sales rebounded this past month but we have also seen a positive shift in the predominate price range of the market. While this past fall our local housing market was being lead primarily by year-over-year increases in sales within the $150k and below price range. However this past month we experienced a rather large year-over-year increase (34%) in the $250k – $400k price bracket, in fact this was the only price range that experienced an increase of market mix, as exemplified in the following table:

After a slow start for 2010, we expect the Huntsville Housing Market to perform well over the next few months although the performance will be noticeably lower than the local housing boom years of 2006 and 2007. One  of the contributing factors within this prognosis is that the expiration of the Home Buyers Tax Credit on April 30th will have spill over effects through June of 2010. This is due to its unique structure requiring a signed contract by April 30th while allowing qualified closings through June and our pending sale statistics seem to bear this out, so as always stay tuned.