Sales of single family homes within the Huntsville Metro Area continued their winter slump during February 2010. Unit home sales, that is the number of closed transactions, were down from January's level of 161 closings to 153 units in February, representing a -4.9% decline month over month, which was  the 4th straight month of sales declines since October of 2009.  From a more seasonal perspective, unit sales have declined -31.6% when compared with the 224 closings occurring in February of 2009.
Local Market Hitting New Lows
When looking more broadly across differing property types (other than just Single Family Homes) and within a wider geographical area, like the entire county or north alabama area, the numbers are more palatable showing a small increase in sales over January and a seasonal decline of only -14%. Nevertheless even a -14% decline from last year's results clearly indicate that the Huntsville Housing Market is hitting new lows since the onset of the nation's financial crisis 4 years ago. The following chart can far better illustrate this than any commentary I am able to add: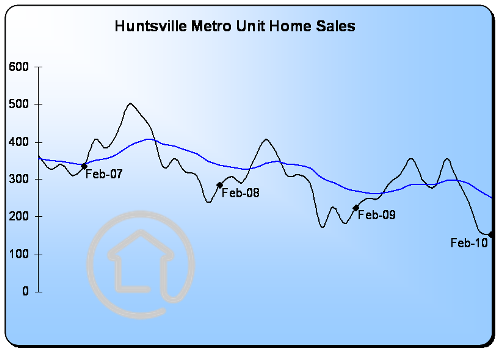 Are Markets Rational?
Left alone, markets over-time are completely rational human instruments where sales and prices naturally migrate to a balance of supply and demand. However this fall, winter, and spring are not representative of a completely natural market. Government incentives to accelerate  home purchases have likely motivated some buyers to move-up their purchases (Nov 2009 deadline) and may now be motivating active participants to take their time, there is no real  rush (April 30, 2010 deadline).
This could very well be a major contributing factor of why we experienced unseasonably high home sales this past October-November (prior to the first deadline) and  new market lows immediately afterward in January-February.
Will this same pattern repeat itself in March-April and May-June?  Well honestly, of course, we don't know! However there is one thing we are sure of, we will be watching and reporting the next few months in all their glorious or gory detail, so please stay tuned and check in often.
– Elizabeth