Sales of single family homes within the Huntsville Metro Area took a sudden and sharp drop during January 2010. When comparing December's 238 homes sold, January's 158 closings represent a 66% decline month-over-month. When taking seasonality into account year-over-year declines were moderate in comparison, disturbing nonetheless registering a 14% decent from January 2009 levels.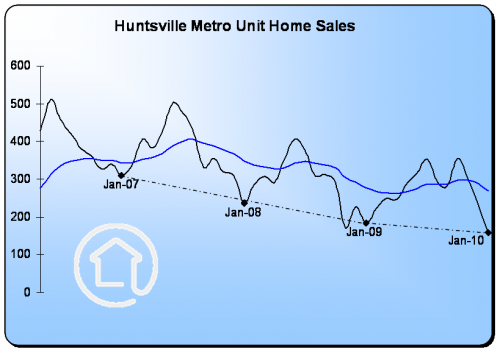 You don't need to be coy, Roy
No we're not being shy, bashful, or timid (coy) we're just telling it like it is. Yet despite these dreadful numbers and January setting a new-low in homes sales of our Metro market, the world is not ending and there are reasonable explanations why we are experiencing such a volatile market.
Let us not so quickly forget that October-November 2009 set record sales levels to the up-side equaling the normal seasonal summer peak. The reason for all of these unseasonable swings in the market (at least to us) seems to be clearly rooted in the First Time Home Buyers Tax Credit of 2009 and its updated cousin including Existing Home Buyers (move-up/move-down/move-out) .
Make a new plan, Stan
The recent passing of the Nov 30th deadline for First Time Home Buyers and its upcoming cousin April 30th is simply laying havoc to the tried and true seasonality of a stable real estate market.
So was January just the calm between the storms? Will we see an acceleration of showing activity through March? Will April be another October setting unseasonably high records for home sales?   Well time will only tell but rest assured you'll be reading about whatever happens right here on these pages.  …So why not Hop on the Bus, Gus and follow along;  subscribe to our blog feed via your favorite Rss Reader or a simple email containing new blog posts as they happen.
- Elizabeth