Huntsville AL Home Sales December 2009
Huntsville Home Sales weakened during the last month of 2009 with 240 closings in December, a drop of -20% from their November 2009 highs, yet up 5.8% over the same period in 2008. However for those of us that watch this market closely, this anomaly is not surprising and even expected.
The following 4 year historical sales chart for the Huntsville Real Estate market illustrates Huntsville's remarkable journey through the still on-going financial crisis. You will notice that sales lows occurred in a downward trend from 2006, 2007, to our most recent lows in 2008. However the story from 2009 indicates that the local market has moved upward, off its low,  into a stable and flat condition and this is for good reason.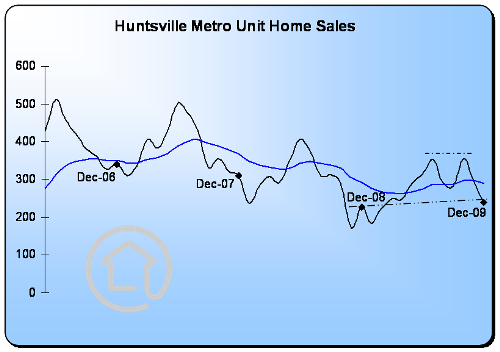 Notice that the 2009 home sale highs, on the above chart, occurred in July and then again in November. The first seasonally common high in July, was supported by last years BRAC relocations, which generally occur in the spring and summer months. Moreover there is little doubt that November's high was due to the first time home buyer's tax credit of 2009. Thus Huntsville can look forward to more of the same 2010.
Upbeat Market Outlook For 2010
Our market outlook for 2010 is an upbeat one for 2 primary reasons:
The tax credit has been broadened and extended until April 30, 2010.
BRAC relocations will resume and continue this spring and summer.
As always, we caution readers that specific price ranges and locations reflect different market conditions and are dynamic, thus if you have any questions regarding your own specific price range and area of interest, please don't hesitate to give me a call 256-425-1659 or easier yet email me and I would be happy to assist.
- Elizabeth