June 2009
Month-to-Month
Huntsville Home Sales for the month of June were truly a mixed bag with some good and not-so-good news. On the revenue side of the equation, things looked especially strong with sales revenues growing from $57,629,458 in May to $69,098,295 in June, an increase of 19.9%. This is nothing, if not good news for our local market and certainly a welcomed change from recent revenue trends. We have discussed this market mix dynamic in some detail in our previous home prices post for those wishing more detail.
However when looking on the transaction side of the equation, the number of unit sales between May and June remained relatively flat with 282 closing transactions in May and 288 in June, an increase of just 2.1%, but an increase nonetheless.
Looking at the following 4 year unit sales chart, it is quite easy to surmise that June is typically the seasonal month where transactions reach their peak for the year. However with pending contracts still at high levels perhaps this trend will be broken this time around. Nonetheless it must be stated that the number of closed transactions for the month is certainly disappointing.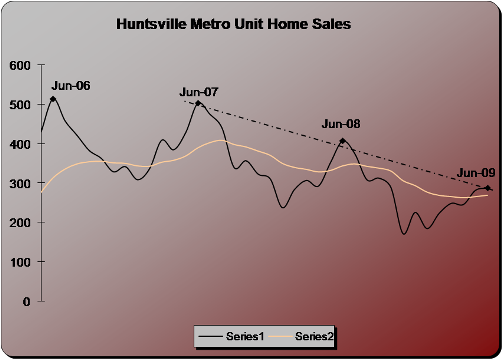 Year-over-Year
Looking at Huntsville Home Sales year-over-year we see the similar trend we have been watching for 2 years now. However June's results are somewhat worse than the average we have been measuring, with unit sale transactions down -29.2% from 2008 levels and some -42.7% lower than in June of 2007.
We have been looking closely for measurements that are indicative of a bottoming and leveling out of the Huntsville Real Estate Market, however June did not provide any assurances that we have arrived at this destination. Nevertheless we will be keeping a diligent eye on the market's progress and will of course keep you updated as we proceed through the year.