Location / Demographics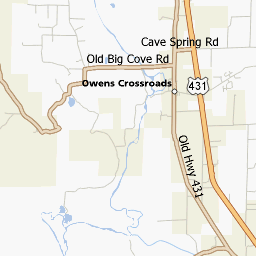 Where is Owens Cross Roads you ask? Well within local vernacular it depends on which Owens Cross Roads, as there are actually two.
The original Owens Cross Roads is an unincorporated part of Madison county south on highway 431 between the cities of Huntsville and Guntersville. The community's name originates from its first Postmaster, Thomas P. Owens. The population of this community in 2007 was 1,445 and this rural community is serviced by the Madison County School District and has its own local elementary school the Owens Cross Road School.
The original post office which is now zip code 35763 covered a much larger area of the county and much of its area has since been incorporated into the city of Huntsville. These days the post office supports two different city addresses within its zip code Owens Cross Roads and Hampton Cove. Thus much of Owens Cross Roads as it is known today actually resides within Huntsville city limits and therefore is serviced by the Huntsville City School District.
Owens Cross Roads / Hampton Cove
When the majority of Huntsville locals discuss Owens Cross Roads they are in fact talking about the neighborhoods of Owens Cross Roads within city limits and it is important to distinguish a difference between Owens Cross Roads and Hampton Cove even though they share the same post office. Why?
Hampton Cove due to its community amenities, home owners association, and proximity to the Robert Trent Golf Courses has since its inception brought premium real estate prices when comparing price per square foot pricing.
Real Estate
Owens Cross Roads then represents a real opportunity for value since its pricing is more in line with other popular areas of the city and yet its local amenities are comparable and it is serviced by the same identical schools as Hampton Cove: Hampton Cove Elementary, Hampton Cove Middle School, and Huntsville High School.
When viewing Owens Cross Roads homes for sale it is important to utilize two different search parameters; one being the MLS area: Huntsville City East the other being the City Name: Owens Cross Roads. This search query will bring up all of the homes for sale in the unique value zone of Owens Cross Roads as exemplified in the following link:
Neighborhoods / Subdivisions
Once you have spent some time viewing Owens Cross Roads homes, be sure to sort the search results by subdivision and then explore in more detail each of your favorite neighborhoods.
There are a wide assortment of Neighborhoods and Subdivisions in Owens Cross Roads, some having Home Owner Associations (HOA), community pools, and other not. Three of some of the larger subdivisions with homes for sale and worthy of a visit include the Carrington, Hampton Ridge, and Magnolia Park.