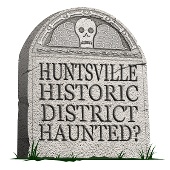 I ran across an interesting tidbit of information this week while cruising the Internet. I never knew that much of Huntsville's Historic District is said to be haunted by several ghosts. Yep I said ghosts. …I know …I know …but bare with me for a moment because this is actually an interesting family outing you can do while your visiting Huntsville this summer or fall.
Huntsville historian and award-winning author, Jacquelyn Procter Reeves, has researched at length the history of our very own historic district and what she has uncovered will likely surprise many of us locals who thought we knew it all. In fact what she has uncovered and documented within her books are little known facts, as well as historic rumors, of haunted places in our very own Old Town Historic District.
Ok, here is what we know so far:  …A ghost at the Court House is said to be angry at the men who lynched him in 1904, ghost children on Walker St sing about a the Spanish flu epidemic that killed several people in the area in 1918, A U.S. Senator for 1849–1853 apparently prowles around his former home on Pratt Ave, and there are former confederate soldiers on Randolph Ave that of course are still upset over the Civil War.
However the story gets a bit creepier and they have added a bit of history and fun to the mix. Jacquelyn has now teamed up with Kevin Thompson, a lead investigator with the Madison County Paranormal Research Society and not only have they toured with paranormal mediums that have embellished upon the tantalizing history, they have formed a weekly Huntsville Ghost Walk Tour for the pleasure of the touring public.
Thus Jacquelyn and Kevin have pooled their talents to put this tour together; for an interesting, historical, and entertaining evening consisting of researched stories of ghostly activity and of course Huntsville's own rich history. The tour begins Saturday evenings at 6:00pm through October 2009 from the Harrison Brother's Hardware Store in downtown Huntsville and tickets are $8.00 for adults $6.00 for children 12 and under and can be purchased at Harrison Brothers or Call (256) 509-3940 for more information.
With so many relocation clients in and out of town for house hunting trips this summer, I would definitely recommended this family outing not only for the local History and creepy family fun stuff, but I think you will really enjoy a stroll through all the Huntsville Historic District Homes for Sale and taking a first hand look at our Huntsville Historic District.
In fact I think I am going to try and schedule our own tour with Hubby and Daughters sometime before the end of the summer, …I mean wow, I just love the homes in the Twickenham District adjacent to Old Town and family time is just so important isn't.  …have fun!
Elizabeth