Searching Huntsville Foreclosures
Foreclosures fall into several categories and require customized searches to isolate these listings in the local Huntsville MLS. Here are a few of these searches to facilitate your viewing of these homes online.
To understand the various stages of the foreclosure process and evaluate whether you should consider purchasing a foreclosure and at what state be sure you read our previous post:
Huntsville Foreclosure Status
Huntsville area foreclosure activity continues at its highest level on record for 3 three consecutive months now, with 1 out of every 807 Madison County Homes involved with some stage of the foreclosure process. Foreclosure activity is defined as the number of homes receiving foreclosure filings, default notices, auction notice, or bank repossession.
As illustrated in the following chart, the increased local activity began in March of 2009 with April and May following suite with a strong clear jump in foreclosure activity being reported each of the last 3 months.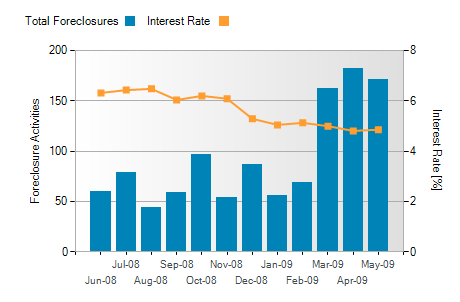 While foreclosure opportunities do exist in our local market it must be stated that in general Alabama and Madison County still remain in very good shape when compared to the nation as a whole.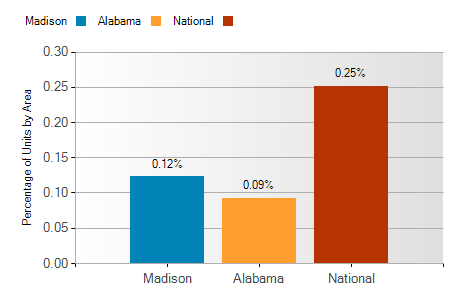 It must also be stated that the bulk of Alabama's home foreclosures are isolated to its major metropolitan areas as illustrated in the attached graphics.