May 2009
Month-to-Month
Seasonally the Huntsville Metro Area normally experiences a jump in home sales from April into May and this year is no different when it comes to the seasonality of residential real estate sales. According to MLS statistics single family home sales increased 11% in May (271) over April (245) in the Huntsville Metro Area. However when comparing the current market with last year's same seasonal increase of 19%, a more realistic picture of current market conditions is revealed.
A recent article in the Huntsville Times quoted several local Realtors® with upbeat assessments saying, "Local home sales surged in May to the highest level in 9 months". Well let's hope so, because this statement would have likely been true for every month of May for the past 10 years. So in keeping with our motto when it comes to market commentary, 'To Spin is to Sin', we again choose to keep our comments real and refrain from intentionally spinning market statistics either positively or negatively.
The fact of the matter is that the Huntsville Real Estate Market is now some 35% smaller than its peak and the national economic crisis has and is taking a toll on our local market. However the good news is that despite the slower sales rates of 2008-2009, average home prices have held up well, much better than many parts of the country, and have only moderately declined 2-3% within most price ranges.
Huntsville Alabama Home Sales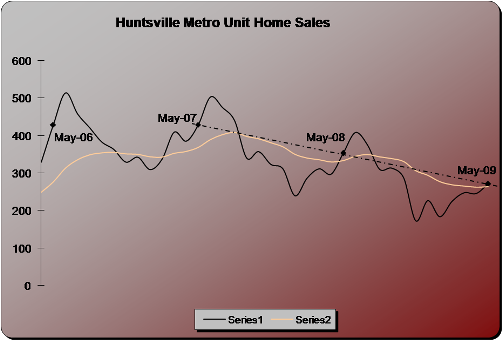 Year-over-Year
When looking at the performance of the Huntsville Real Estate Market year-over-year we are seeing a leveling off of sales declines at a level some 20% below 2008 levels and 35% below the peak year of 2007.
If you take a close look at the 3 year unit sales chart above, you will note that sales have been on a declining trend since the summer of 2007. However you will also note that a double bottom pattern formed in the Nov – Jan 2009 time-frame and we have just broken the moving average trend line upward for the first time this month as we expected and mentioned in last month's market update.
Will sales reach 2008 levels this summer? Well of course we don't know for sure; however what we do know is that it would take a massive 50% surge in home sales for the current month of June to match last year's level for the same month. Thus we don't feel this is a very likely outcome.
On the other hand given the recent signs of the national economy beginning to stabilize and the pent up BRAC relocation demand that will begin unwinding in the near future, we suspect, as well as hope, that 2009 will be a bottom forming year and that our local market will once again continue its long term growth pattern. Time will only tell and of course we will keep you posted as things progress in the coming months.