May 2009
Huntsville Home Prices have continued to follow their current lower trend for the month of May. We had hoped that the beginning of the summer selling season would witness a return to last year's average prices, however this is not yet the case as May's results did not break through the longer term moving average which is currently indicating a moderate 2-3% percent decline in average home prices across the metro area when compared to last year's performance.
This moderately lower price trend has been present in our local Huntsville Real Estate Market since September 2008 and is illustrated, by the moving average and May-to-May trend line, in the following 4 year price chart. The divergence of the long term trend when comparing the upward trend of 2006-2008 with 2009′s downward trend performance is clearly illustrated.
Metro Area Average Home Prices Per Square Foot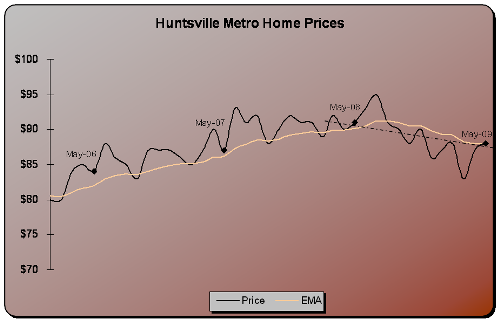 A big contributor to this month's performance is that the recent spike in First Time Home Buyer purchases of $150k and below has subsided, with performance returning to a more seasonal mix of sales at ~34% of all home sales instead of the ~40% we have been experiencing the last few months. Also the price gains within this price range we have been following did not repeat themselves this month, instead we have experienced moderate price declines across all prices ranges.
Again this month the luxury market over $450k was especially hit hard experiencing a 15.8% drop in average prices although this is an improvement over last months 24% shortfall, so prices are showing a bit of strength into the summer months.
The absorption rate inventory within the luxury market segment currently measures 24 months of supply at our current sales rate, so metro-wide there is plenty of inventory to choose from and we expect to see continued price action within this market segment. However keep in mind that these statistics are for the Huntsville Metro Area and individual neighborhoods or subdivisions can vary dramatically so be sure you have your agent pull applicable recent sales comparisons for your area of interest.
| | | | | |
| --- | --- | --- | --- | --- |
| | %Mix | Price 05/08 | Price 05/09 | %Change |
| 0 – 150k | 34.3% | $72 | $70 | -2.8% |
| 150k-300k | 49.4% | $95 | $93 | -2.1% |
| 300k-450k | 12.2% | $111 | $109 | -1.8% |
| 450k-up | 4.1% | $141 | $119 | -15.8% |
| All | 100% | $91 | $88 | -3.3% |