What Are Pending Home Sales?
Pending home sales reflect the number of homes under purchase contract that have yet to complete the closing process. Under normal conditions there are a residual number of these homes in the Huntsville MLS at the end of every month. Thus their statistics can be forward looking. That is, given a spike or consistent trend they can be predictive of how the Huntsville Real Estate market may perform over the next few months as many of these purchase contracts are closed.
How is the Huntsville Real Estate Market?
Taking a look at the 3 year chart below you will note that monthly pending contracts have been in a consistent downward trend since July 2007. This is illustrated via the 12 month moving average being above the metric. The 2008 – 2009 levels are approximately 25% lower than the real estate boom years of 2006 – 2007.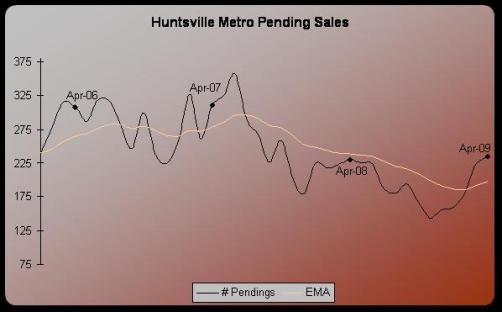 However still looking at the chart above, we have somewhat of a recovery going on over the last two months where our pending contracts have spiked above the moving average trend, with both March and April up ~3% higher than 2008.
This does seem to bode well for a busier summer season than last year, as generally Huntsville home sales do usually peak in the June and July time-frame. However given these numbers it is not likely that we are going to move anywhere near 2006-2007 levels.
What About Nationally?
The National Association of Realtors released their nationwide pending homes sales this week as well. Some good news was apparent in the numbers especially in the Northeast part of the nation with a 32% spike. However the index for the Southern part of the country didn't fare as well down from March and only up 3.5% when compared to last year's numbers.