April 2009
Month-to-Month
Seasonally the Huntsville Metro Area normally experiences a small dip in single family home sales from March-to-April, and this pattern has again repeated itself this year with April unit sales (235) -4.8% lower than March (247).  Nevertheless during this past month, sales of upper end homes (especially in the East and Southeast Huntsville MLS areas) experienced somewhat of a resurgence causing revenues to increase March-to-April from $44.5 million to $47.3 million (+6%).
One of the trends we have been watching closely since July 2008 was a slow and steady decline in the number of homes for sale on the market (raw inventory).  This was a good trend given the level of sales we are experiencing, however this past month saw a reversal of this trend with an addition net gain of 133 homes entering the market increasing our metro raw inventory to 2411 homes for sale.
The decrease in unit sales accompanied by the increase in raw inventory experienced this month has caused our absorption rate inventory (months of inventory) to tick up to 10.26 months of supply from a 9.25 month calculation last month. This places the Huntsville Real Estate Market clearly in strong buyer territory and at a level where we would expect to see continued price action.
Huntsville Home Sales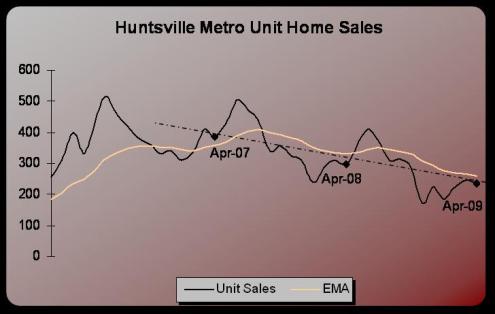 Year-over-Year
When looking at the performance of the Huntsville Real Estate Market year-over-year we are seeing a leveling off of sales declines at a level some 20% below 2008 levels and 35% below the boom years of 2006 – 2007.
If you take a close look at the 3 year unit sales chart above, you will note that sales have been on a declining trend since the summer of 2007. However you will also note that a double bottom pattern formed in the Nov – Jan 2009 timeframe and we are now once again testing the trend lines in an upward direction.
We expect sales will break the trend line and move higher into the summer months. We do not know if their eventual peak will close our 2008-2009 20% gap, if they do we may very well be looking at a market that is once again growing. Time will only tell and of course we will keep you posted as things progress in the coming months.