March 2009
Huntsville area home prices weakened into the spring of 2009 across most areas and price ranges, some faring much better than others. According to MLS sales statistics, metro area average homes prices weakened significantly in March when compared with year-over-year results.
The average sales price dropped -19.7% from $225,246 recorded in March of 2008 to $180,777 for the same period in 2009. The median sales price saw a -13.2% drop to $165,000 and when utilizing price per square foot, the statistic is smoothed somewhat to -8.8%.
In any case the month's sales and price results are not a good one and it is best to look at average prices via longer term trend lines. Thus the following chart puts recent prices trends into a 3 year perspective along with a moving average to smooth out monthly price aberrations.
Huntsville Metro Area Price Per Square Foot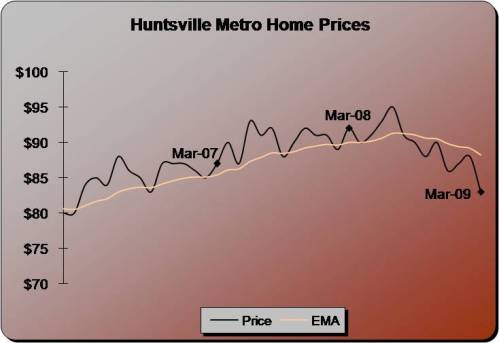 At this point in our analysis we can only speculate as to the root cause of the current month's sales price statistics. We suspect one factor may very well be the increase in foreclosure activity within the Huntsville metro area to record levels during the 1st quarter of 2009, which we reported on in an earlier post.
Since this activity was primarily concentrated in home values that were less than $200k, we suspect that results will vary widely across different price ranges and MLS areas. Thus given such a precipitant decline in average Huntsville Home Prices, this month we will take a much closer look at this number across price ranges and MLS areas in a follow up post.