According to RealtyTrac's latest foreclosure report for the first quarter of 2009, foreclosures in Madison County have seen a dramatic increase when compared to the same quarter of 2008. The company reported that foreclosure activity in the area increased a whopping 80% quarter over quarter and up 21% from the 4th quarter of 2008.
RealtyTrac CEO James Saccacio said in a news release regarding the nationwide foreclosure activity spike that occurred during the quarter:
"Since much of this activity was in new foreclosure actions, it suggests that many lenders were holding off on executing foreclosures due to industry moratorium and legislative delays."
When looking at some of the detailed Madison county charts provided via our RealtyTrac membership it lends credence to the theory espoused by Mr Saccacio. Note the almost 200% increase in foreclosure activity in March 2009 compared with the last 12 months on average.
Madison County Foreclosures vs Interest Rates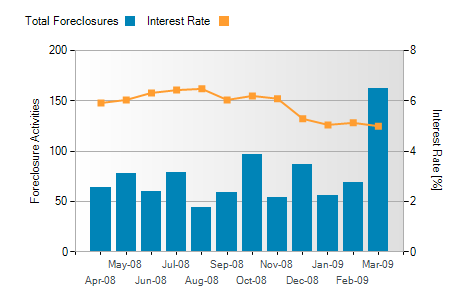 It is even more interesting to dig a little deeper into the report and get a sense of what market segments are being most effected. Note within the following chart that the market segment that is being the most adversely effected are homes valued at $200k or less, with most of this activity centered within the Huntsville metro area.
Madison County Foreclosures vs Market Value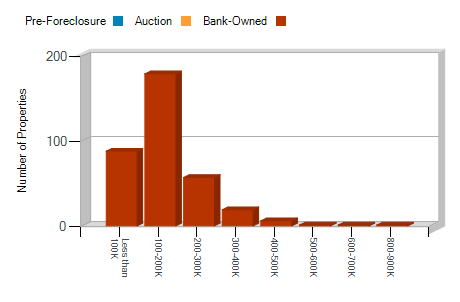 How this will effect home prices in the Huntsville area is yet to be seen, however some due diligence, especially across various price ranges is certainly something we are looking at putting together in the very near future.