Spring 2009
If you are in the Huntsville Real Estate market this spring or early summer as a buyer, this year all of our local market indicators are leaning your way: interest rates, inventory, prices, and for first time home buyers even the Government.
There is almost always a seasonal increase in local home sales into and through the summer months, and this increased activity is often accompanied with seasonal price fluctuations in a moderate upward direction. Are you poised to capitalize on your current advantage?
Interest Rates
If you don't think current mortgage interest rates are at historical lows just take a look at the following chart showing mortgage interest rates from Feb 1984 to Feb 2009 as interest rates have not been at current levels for 52 years: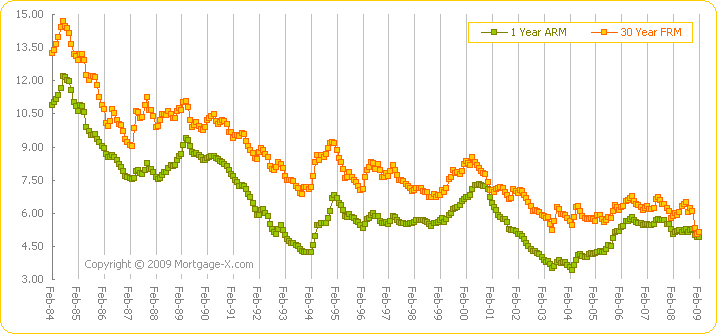 Today local Huntsville interest rates for a 30 year conventional mortgage range from 4.375%  to 4.875%, so be sure to visit often and check our local mortgage rate page regularly as it is automatically updated on a daily basis.
Inventory & Prices
While not historical, local inventory levels are seasonally high, so buyers have plenty of choice within most price ranges and while home prices have been the strongest attribute of local market conditions, they are currently seasonally weaker and below 2008 levels.
Moreover, Huntsville Homes are taking longer to sell than in the recent past and while this of course differs according to price range it is leading to many more flexible sellers.  We have personally assisted relocating families into home purchases this winter and spring with summer closing dates with lease purchase options not even offered by the seller, thus sellers are currently willing to consider special circumstances and make concessions.
First Time Home Buyer Tax Credit
These favorable buyer advantages are enhanced for first time home buyers due to the up to $8000 tax credit recently passed by congress. While the tax credit can not be used directly for a down payment, it can be utilized for any other purpose including paying down personal debt, etc.
The tax credit applies to home purchases that close by December 31, 2009, so this window of opportunity is limited and the decision to take advantage of this risk mitigation benefit is one that should be seriously considered by qualified buyers in this situation.
Get Pre-Qualified
For all home buyers there is one thing that is certainly more important than in the recent past, get pre-qualified for your mortgage prior to actually visiting homes for an interior showing. Many sellers, in these times are not even keen to show their home unless a buyer is pre-qualified and this effort will also help you in collaborating your price range as well as enabling you to take quick advantage of situations that arise during your house hunt.
If you need assistance in getting pre-qualified or any other aspect of purchasing a Huntsville Home please don't hesitate to contact us via email or give us a call at 256-425-1659.
Elizabeth