February 2009 Update
February's market statistics for Single Family Home Sales in the Huntsville Metro Area have arrived and while some trends are continuing there are some encouraging signs.
Huntsville Real Estate Sales have been in a declining trend since the summer of 2007. While the trend started moderately, it accelerated late in 2007 and continued until reaching the current low point achieved in November 2008. On several occasions over the last few months I have stated that the Huntsville Real Estate Market is now smaller than it has been over the last 2 years and this remains an accurate statement.
However, our most recent month's -25% decline in sales is smaller than several previous months that have registered declines in the 3o-35 percentile range. Moreover, if you look at the following chart you should be able to recognize a seasonal bottoming pattern that has repeatedly formed in the Dec-Feb time-frame over the last 3 years.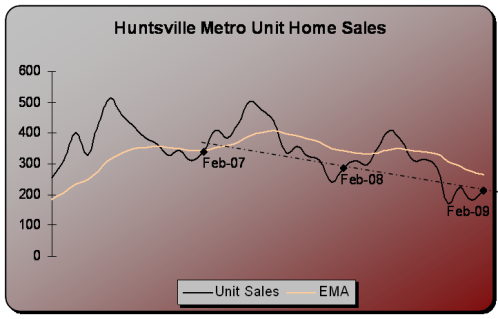 From measuring  our own internal business activity along with discussions with colleagues, its seems apparent that from here into the summer of 2009 we are likely to see, at least, a normal seasonal increase in home buying activity, however larger questions loom.
In 2008 we extended sales above the moving average trend-line for only 3 months and have failed to make new all time market highs in both 2007 and 2008. This year our prognosis is somewhat more optimistic, No we are not very likely to exceed all time high sales records in 2009, however we do feel we may very well extend over the moving average trend-line for longer than the previous year's 3 months and establish a base where sales may continue their longer trend growth curve.
There are several factors that contribute to this view, namely, that the pent-up BRAC demand for Huntsville Real Estate will begin its materialization in the summer of 2009 only to grow in both 2010 and 2011.  Another factor that many (especially in our local area) dismiss, is the improved First Time Home Buyers Tax Credit of 2009. An up-to $8000 tax credit for first time home buyers that close on a home prior to January 1, 2010 is another example of the pent-up demand that is simply now a reality in our local market.
Of course we can not predict the future, but given 'known' pent-up demand, the prognosis of the future is, at least, certainly brighter than it has been in the last year or so, nevertheless time will only tell and as always we will certainly keep you posted.