January 2009 Update
It is important to note that our monthly market statistics focus on single family homes within the Huntsville Metro Area only. While other local information sources include condo and farm home properties and focus on a wider territory like Madison County or the entire North Alabama MLS area, we feel that our narrower scope is a value added mechanism and also more accurately reflects the market that our clients and readers are most interested in.
January 2009 Huntsville Real Estate Sales came in with 179 closings, which is a decline of -25% when compared with January 2008 and -43% when compared with January 2007. The most recent results continue the slowing sales trend that we seen over the past 2 years.
As the accompanying chart indicates, Huntsville Home Sales slipped to 2006 levels during 2007 and the later half of 2008 saw further deterioration into 2005 sales levels where we are currently performing.
We do expect to see a leveling off and stabilization of the current sales decline and while the last three months may be the start of this stabilization, it is difficult to call a bottom especially given the current national housing crisis. However we will be monitoring this closely and will keep our readers updated.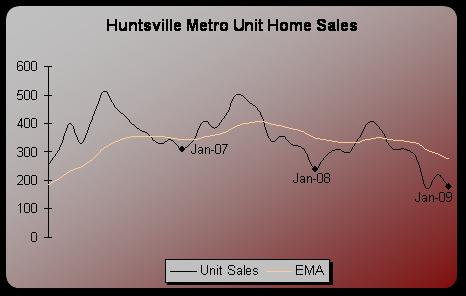 Obviously the biggest losers in our current Real Estate Market are full-time real estate professionals. If they are gaining market share there is likely a feeling of immunity as all is well, maintaining market share in this environment is a survival proposition, and loosing market share could be disastrous for these small independent businesses.
There is a general lag in the number of real estate agents as a market fluctuates. As the market grows the number of agents increase, but many agents like individual investors come into the market late and at the top. As the market contracts there is a lag in the eventual reduction of real estate professionals servicing a particular market, so there is a troublesome period within a contracting market where far too many agents are chasing fewer and fewer closings and the business becomes all about shifting strategy and tactics to maintain or grow market share.
For sellers this can be a very trying market especially if your home is showing and the only offers available for consideration are below your pricing expectations. If a seller is moving-up then the pricing  pressure can be mitigated on the buying side, but if a seller is moving down or liquidating equity then our recommendation remains as it has been for the last year; if you can wait to sell then you should.
For those buyers with the means and desire to enter the Huntsville Real Estate Market times are good. Interest rates are low, pricing pressure is currently on the buyer's side, and there is plenty of inventory  from which to choose from. Qualified first time home buyers will also reap the benefits of recent legislation providing for tax credit assistance.
In this market a good agent can be an invaluable asset whether you are a buyer or seller, as professional comparative market analysis and contract negotiation skills become much more important in a difficult market.