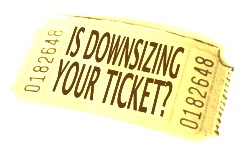 Baby boomers are one segment of the population that bought the family home some time ago, raised their families and enjoyed sufficient space for the kids, along with the big yard in a neighborhood filled with other families in similar circumstances.  You may also have managed to pay off your home, insulating you from the current foreclosure rate that may now plague younger homeowners.
When you've lived in your home for so long, it may seem unthinkable to live anywhere else. You've got lots of good friends and neighbors and are reluctant to give it all up. However, if the kids have grown up and now have their own lives and homes, it may be a good time to reassess your situation. You're no longer using all that space, yet you're still paying your property taxes. You also need to maintain that space, including the yard and garden work.
You're looking forward to the day you can retire. With the cost of living being what it is, you likely want to maximize your income while minimizing your expenditures. If you haven't considered downsizing your living quarters, this may be a good time to do so. While today's housing market is not the best, have you thought of renting out your home and renting an smaller apartment? This solution offers the best of both worlds. While it's difficult to sell a home, rentals are fetching high prices, due to the demand created by the credit crunch. By taking a rental, you can easily pay for property taxes, upkeep,  and your own apartment living quarters and still realize a profit. When the housing market is back on track, you can sell your home for a tidy profit.
Meanwhile, your time and energy won't be maxed out with maintaining your now too-large home, leaving you free to do what you please with your time. An apartment requires minimal upkeep and maximum convenience.
It's may very well be worth your time to explore this option of downsizing. There are plenty of property management agents to scout out just what you're looking for in a small apartment. All you need to do is make a list of the types of amenities you want and, just like any real estate agent, they'll compile a number of suitable places for you to preview.
If you enjoy entertaining, you may want a larger, gourmet style kitchen. Maybe you'd like a hot tub to ease those arthritic aches and pains (ouch!). If you're the fitness freak, find an apartment complex with a pool or workout facilities. Is secure parking a concern? Will an on site laundry facility work for you, or do you want a laundry area within the apartment? Is a fireplace a must? Do you need a small office space worked into the apartment plan? How about transportation routes?
The more detailed your list of requirements, the better and faster the agent will find what you need. Let the agent know if there are specific neighborhoods you'd prefer.
At the same time, see what price you can get by renting out your current home now. When you add up all the numbers, you might find that downsizing to an apartment may be a very savvy move for you and make the most of your retirement dollars.