December 2008
After multiple years of moderately increasing inventory levels, 2008 was a relatively flat year when it came to the number of homes, new and previously owned, that were for sale on our local market. In December of 2007 we had 2372 active listings in the Huntsville Metro Area, while this past month we had 2254, indicating a -5% drop in overall home inventory as illustrated in the following chart: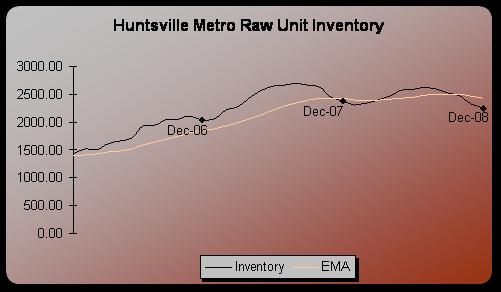 On the new home side, the Huntsville/Madison County Builders Association recently reported that 1,941 permits were issued in 2008, down -29% from 2007. Thus indicating that local builders are slowing their speculative build rate in adjustment to the lower sale rate we are experiencing. Statewide, home construction dropped nearly -45% in 2008, according to the Alabama Center for Real Estate Research at the University of Alabama.
The lower inventory level, although moderate, is good news given that current sales levels have declined significantly when compared to 2006-2007. Combining both the lower inventory and unit sales into an absorption rate inventory gives us a current inventory level of 10.4 months of supply. This clearly places the Huntsville Real Estate market solidly in buyer territory.
Our local market has dramatically shifted and buying opportunities abound. We are also seeing significant price flexibility on the part of sellers in certain segments of the market. Nevertheless, financing is more difficult and negotiating with sellers, some of whom are still unaware of current market conditions, is key for a buyer to take full advantage of this situation.
If you're entering the Huntsville market in the near future we would certainly welcome an opportunity to assist you every step of the way, pre-qualifying for a mortgage, finding the right property, and negotiating the best possible price. We know and always remember that if a seller takes your first offer, you've paid too much! Would you like the assistance of a knowledgeable local REALTOR®? Not a problem, simply drop us an email or give us a call 256-425-1659 when you're ready to get going!
Elizabeth