December 2008 Update
When looking at Huntsville Real Estate sales for December, we see very mixed results. While the number of homes that sold in the month increased some 26% when compared to November's  dismal results, we are still experiencing a sales slow-down in the Huntsville area with year-over-year comparisons indicating slower sales by a magnitude of -29.9%.
You will note that this trend has been continuing for over a year, by looking at the following 3 year chart of unit home sales. Home Sales in Huntsville's Metro Area are now performing at 2005 levels. Will this downward trend continue into 2009 or will sales level off at 2005 levels? We will be watching this trend closely in the months to come and will keep our readers updated as things proceed.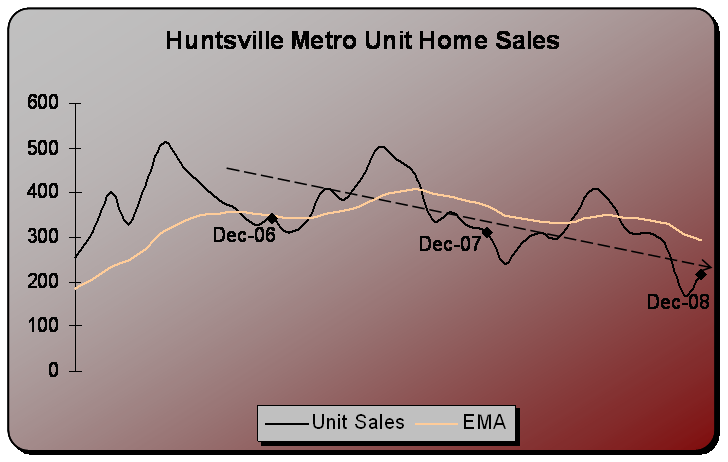 To better express just how mixed our December sales were, we will take a closer look at the sales figures using a couple of different price ranges illustrating just how diverse this month's sales statistics are.

| | |
| --- | --- |
| Price Range | Year-over-Year Unit Sales Change |
| Under $120k | +4.8% |
| Over $400k | -40% |
What we are seeing is that sales in the lower end of the market, typically first time home buyers, is growing; expanding in December with 4.8% more sales than in the same period last year.While simultaneously the upper end of the market is performing dramatically worse. Thus we have a market dynamic where more homes in the lower end are being sold while very few upper end homes are selling.
Obviously this kind of dynamic will skew average selling price statistics lower also rendering them somewhat suspect and we will take a closer look at this in a follow-up post.
The most important thing a buyer or seller can take from this analysis is that, in this market, it is of utmost importance to have your REALTOR perform a comparative market analysis before deciding on an offer price if you are a buyer and any listing price if you are a seller because market conditions will vary dramatically depending on the location and price range.