A Unique Neighborhood Community
Lake Forest is a development in Southwest Huntsville, hosting a wide variety of neighborhoods for almost every price range. The location is beyond convenient especially if your employment includes traveling from your Redstone Arsenal office, because Redstone's Gate 7 is literally less than a mile from the development's main entrance and Huntsville International Airport is only 3 miles to the west. And when you consider the short 8 mile drive to Bridge Street Towne Center with its entertainment, restaurants, and shopping, I think you begin to get a feel for just how conveniently located Lake Forest is.
To get a feel for the various Lake Forest Neighborhoods it is best illustrated by using the following map. Using your cursor you can hover over each neighborhood and get property type and price estimate summaries and then by clicking the neighborhood you will get a detailed list of the current Huntsville Homes For Sale in that particular neighborhood. You can then explore the details of every home currently for sale including photos and slide shows if you like. Use your browser's back button and do it all over again until you've explored them all.
Click Lake Forest Neighborhoods for Homes for Sale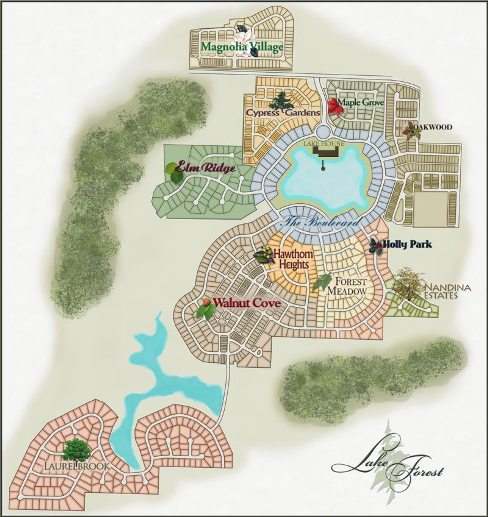 The Lake Forest Home Owners association (HOA) offers some of the most substantial amenities in the Huntsville area including a 7100 square foot clubhouse with fitness center, a huge resort style pool complex, tennis courts, cook out area, children's playground, and walking trails around the 31 acre lake that lies at the center of the community. All of this for only an annual assessment of $600.
Schools: Madison Acdemy is K-12 private school within approximately 6 miles from the community. The public school system includes Williams Elementary and its Technology focused Middle School who in addition to serving the southwest Huntsville city limits are the feeder schools for Redstone Arsenal's active duty personnel. The neighborhoods are also serviced by Columbia High School, recently named as an International Baccalaureate School and the first school within the Huntsville school system to offer this diploma. IB Students take rigorous courses in math, science, history, English, electives and foreign language.