November 2008
This month we have broken up our normal market report to speak to sales, prices, and inventory in separate blog posts. This is due to the dramatic decline (at least for local standards) in home sales occurring in November as widely reported in the Huntsville Times, to which we have added a more granular analysis in our monthly Huntsville Real Estate Sales post.
Over the last3 years, while the nation was experiencing what was then termed, 'A Housing Crisis', the Huntsville Real Estate market was turning in market statistics that went totally against the grain. Our local market was continuing to grow in both unit sales figures and price appreciation despite what was happening nationally. Huntsville appeared, utilizing all available measurements, to be simply immune to the national housing crisis and even when using hindsight the fact is; it was immune!
However with the steepening of the housing crisis into a full blown and seemingly deep economic downturn (recession), the Huntsville Real Estate market has appeared to have capitulated to the extended nature of our nation's economic woes; as we have seen 2 consecutive months of moderate year-over-year price declines in the 2% – 2.5% range. This is of course very moderate when compared to the 20% – 30% declines in states such as California, Nevada, and Florida as these states have significantly higher foreclosure rates than Alabama.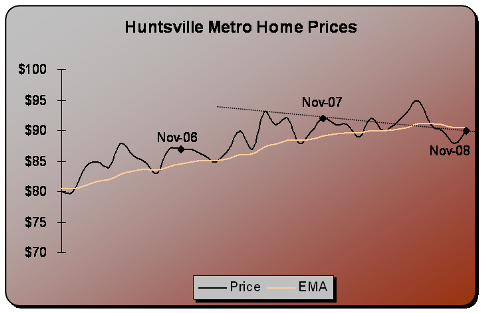 Nonetheless this behavior is unique for Huntsville over the last 5 years, as the accompanying chart illustrates we are seeing a moderately downward trend of home prices when compared year-over-year. It is likely that this trend will at least continue into the spring months of 2009.
Good news for those buyers who are in a position to purchase this winter and not so good news for those sellers who have priced their homes with peak prices in mind.
It is important to note that location, amenities, and other factors play into individual home prices so as always, we suggest you consult with your Realtor to perform a comprehensive Comparative Market Analysis prior to making an offer or setting a listing price.