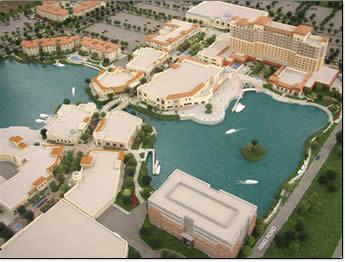 There can be little doubt that the Bridge Street Town Centre development has made a significant impact on city/neighborhood life in Huntsville Alabama. We have done several posts (Westin Residences, Connors, Monaco Theater, etc) on the various businesses located at Bridge Street and since Bridge Street has impacted local family life to such a great degree, especially ours, we want to keep you, our readers, updated.
Since we last updated our readers on the Bridge Street Development there has been a lot of discussion in the public domain about where Bridge Street's final phases of development are headed. In October 2008 we leaned that as part of the 2nd phase of commercial development, we can expect Huntsville's first Sports Authority retail store in addition to several other major retail outlets.
According to a recent Huntsville Times business article we should expect along with the Sports Authority addition, "more than 150,000 square feet of big-box and specialty stores and 790 additional parking spaces" as part of their next phase of commercial development.
Nonetheless another recent announcement indicates, that Huntsville won't have to wait on an official phase II development for the opening of Bridge Street's next addition to our community. Just a few days ago, Bridge Street officials made public through the Huntsville Times the scheduled opening of 'The Station' during this upcoming summer of 2009.
"The Station, a 28,000-square-foot family entertainment center, will have a full-service restaurant and bar, live entertainment, 12 lanes of bowling, an arcade, billiards, VIP area, trivia TV games, and roller-ball." The owner and planned occupant Mike Dooley said, "Our family-oriented entertainment center will be unlike anything in the market and will certainly complement the strong tenant mix currently at Bridge Street Town Centre."
There is no word on the details of a proposed phase III development, where an expanded residential community is planned,  similar to the Village of Providence development, but we are excited to hear about these recent developments and will keep our readers posted on any further development.