Given the recent dominate national economic news, one might think that the Base Realignment and Closure (BRAC) move to Huntsville and Redstone Arsenal may be one of the casualties of the current economic downturn. However, this is not a very likely scenario.
It is true that some 'very optimistic' employment growth figures have been bantered around by various folks who were then quoted in the Huntsville Times with figures ranging from 10k to 12k job growth numbers over the next 3 years. While these optimistic forecasts may not materialize in their full extent, since they were dependent on private enterprises, the Army's BRAC relocation plans are indeed progressing at a rapid pace.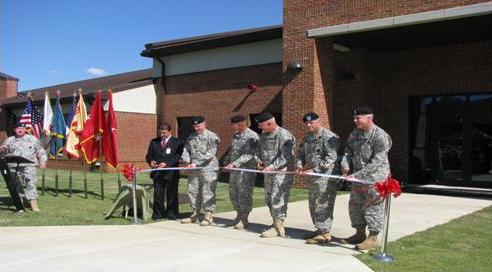 In late October, 'The ribbon cutting ceremony for the Army 2nd Recruiting Brigade's new facility marked more than just the official opening for that facility. It also marked completion for the first of Redstone's BRAC-related construction projects.'
The Army Materiel Command, a large part of the BRAC relocation to Redstone has hit the ground running. Ron Lewis, Army Materiel Command's deputy director for G-3/5 enterprise integration, said. "A lot of work is really being accomplished here out of Redstone. We're performing a lot of our mission's right here, right now." Currently, more than 150 AMC employees are reporting to Redstone for work.

The next phase of their move will bring employee numbers close to 450 by the summer of 2009. Ground was broken in September and construction is well underway on a permanent home on Martin Road. The 400,000 square foot structure will house more than 1,300 AMC personnel when it, and the BRAC move, are completed in 2011.
Other interesting developments have also occurred as testified to by these recent news clippings:
At the urging of local education and business leaders, the Army is changing some missile and aviation program contracts at Redstone Arsenal to allow hiring less-experienced engineers and executives. …The move could help fill new defense jobs transferring here through BRAC.  …The previous requirements included hiring people with 10 to 15 years of professional experience.
Army Major Gen. James Myles, chief of the Aviation and Missile Life Cycle Management Command, said that the Army has long been concerned about the stringent requirements and that change is coming. "AMCOM is expanding the band of experience requirements for AMCOM contracts," … "We are extremely interested in recruiting new and young employees to 'build the bench' in advance of future BRAC vacancies," … "These kinds of changes in requirements can and are being made quickly right here at the arsenal," Myles said.
At a  November "BRAC to the Future" luncheon at the Von Braun Center, military officials overseeing portions of the move of several commands to Redstone Arsenal from the Washington, D.C., area gave a progress report:
The short, happy story: Construction is on track; the money to complete that construction has been approved; and it would take an act of Congress – it has more pressing concerns these days – to stall or stop the process.
The short, troubling story: The arsenal must have bigger and better roads to get employees to and from work; the area needs more schools to educate the thousands of children expected to move here with their parents; and elected leaders and business recruiters must expand the local work force of engineers and logisticians to take those jobs not being filled by D.C.-area defense workers.
Story summaries from the US Army Garrison on Redstone Arsenal.