To summarize October's statistics we will take a look at unit home sales, raw inventory, and Huntsville Real Estate prices and then summarize our conclusions utilizing a forward looking absorption rate estimate:
Huntsville Home Sales – the Huntsville metro area's October 2008 unit home sales were down ~21% when compared with October of a year ago. We must admit this is a larger decline than we were expecting as mentioned in last months market update. Looking at the sales chart below you will notice that in September/October of2007 sales were relatively flat in fact a small increase occurred in October over the previous month, while the 2008 figures show a definite decline from September to October.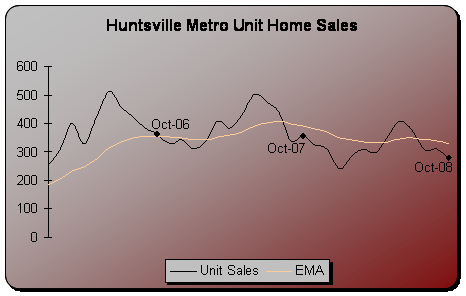 Huntsville Home Inventory – This metric is a simple unit measurement of the active listings on the MLS for the Huntsville metro area being discussed. Raw inventory for October 2008 is down ~7.2% when compared with October 2007. This is the same inventory decline rate that we measured last month and suggests a moderate downward trend. The moving average illustrated in the following chart shows a moderate increase of homes on the market in 2006 through the fall of 2007, since that time the trend indicates a leveling off of raw inventory with moderate year-over-year declines.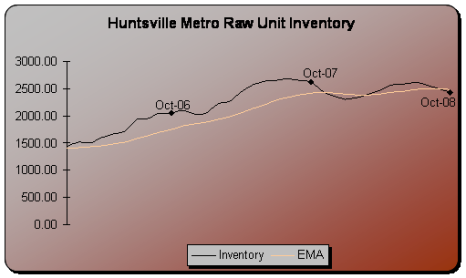 Huntsville Home Prices – Looking at our sales statistics for October 2008, we are beginning to see some price weakness beyond normal seasonal fluctuations and we have commented on this in a separate post in much more detail and thus will refer readers to this blog entry for more information. Suffice to say Huntsville Home Prices declined ~2% year-over-year in the month of October as illustrated in the chart below.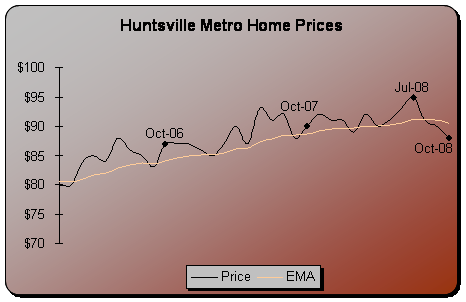 Absorption Rate Inventory –  Absorption rate is the best indicator of upward or downward price pressure in a real estate market. Last month we predicted a flat inventory model along with a 7% percent year-over-year decline in sales. October's results produced a 7% percent decline in inventory and 21% decrease in sales.
October Prediction:
2467 (raw inventory) / 317 (7% sales decline)  = 7.8 months of supply
October Result:
2436 (actual inventory) / 280 (actual sales) = 8.7 months of supply
November Prediction:
2278 (-7% current  trend) / 254 (-9% seasonal trend) = 9.0 months of supply
This forward looking absorption inventory is clearly in buyer market territory and is reaching the area (9 months and above)  where downward price pressure begins to influence a market.
However, as always, these statistics represent the Huntsville metro area in general and different price ranges and locations around the city are experiencing different market conditions, so always involve a professional REALTOR® whenever deciding upon an offer or listing price and they will (should) perform a Comparative Market Analysis for you utilizing your explicit location and price range of interest.