Huntsville Alabama Real Estate prices have been the strongest characteristic of our local market. They have remained strong throughout this past year, even while the number of unit sales declined and inventory levels trended upward.
However looking at our sales statistics for October 2008, we are beginning to see some price weakness beyond normal seasonal fluctuations. The key word here is 'seasonal' and why you most often see real estate statistics compared year-over-year instead of the previous month or quarter. By doing year-over-year comparisons we are taking the seasonal nature of the business into account.
The recently released Housing Affordability Index from the University of Alabama compared Huntsville Home Prices for Q3FY2008 and Q3FY2007 and reported a 4.9% decline in the median selling price, while reporting a 9.5% decline nationally for the same period.
Taking a snapshot of October 2008, the first month of the 4th quarter, we find an average sales price in the Huntsville Metro Area of $190,476 and when compared to the Oct 2007 figure of $207,116 we see a ~8% decline in average sales price year-over-year. However when looking at price/sqrFt, we find an October 2008 price of $88 vs a 2007 price of $90 giving us a 2.2% price decline.
Average and median home prices are often not very accurate when used as a snapshot unless they are utilized with a large sample (the larger the better) and/or over time (e.g., quarterly). Thus as is our usual approach, we will look at the average price per square foot within a historical context (the last 3 years) to mitigate this dynamic.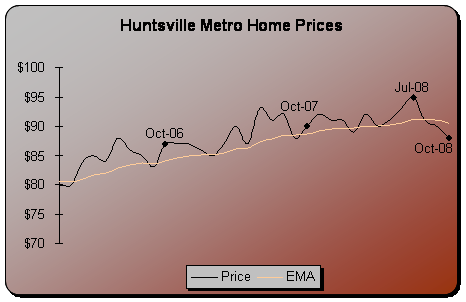 What we see when we look at Huntsville Home Prices over the last 3 years and smooth out seasonal fluctuations with a moving average, is a steady yet moderate price increase into the summer of 2008 where seasonal fluctuations never significantly broke the moving average.
However since July of 2008 we have been experiencing some price weakness, with September and now October breaking the moving average significantly. Thus we are seeing area home prices flatten and begin to decline as illustrated by the moving average itself. We have not seen this type of behavior in our charts over the last 5 years.
As always it is important to note that these are average prices across the metro area and prices do fluctuate greatly depending on your area of the city, neighborhood, and condition / amenities of your home of interest.
Thus whether deciding to buy or sell, it is always wise to have your REALTOR® perform a Comparative Market Analysis prior to making an offer or setting a listing price. We do offer this service completely online and free without obligation by simply utilizing this request form.
Happy Home Hunting – Elizabeth