Exploring Your Neighborhoods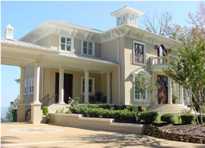 In a previous post we discussed the use of the internet along with advanced property search tools to build an initial list of your favorite homes in your selected neighborhoods. Now it's time for a quick hands-on look at the neighborhoods, shopping, schools, and some of your favorite homes. At this point many people are not interested in working with a REALTOR®, they only want to take a casual look around the area and get a feel for the daily life of a few neighborhoods.
Now that you have researched the area, built your drive-by list, and have your trusty GPS if you're new to the area, you are ready to set off on your first Huntsville House Hunt adventure. …But wait, there is something missing!!! …and it's the biggest complaint we receive from most Huntsville home buyers …you don't have the addresses of your favorite listings!
Sadly, due to local North Alabama MLS rules we are prohibited from publishing property addresses to the general public. Many consumers also complain that their address requests on many Huntsville Real Estate websites often go unanswered.
But don't fret, on each detailed listing on our Huntsville Alabama Homes site you will find an explicit link that simply emails us your address requests. So prior to your drive-by trips just go through your selected favorites and send in your address requests, it's a very easy thing to do. …We batch all your requests and answer every request within 24 hours and include directions and Google map links if available. So please don't feel like you are burdening us, we are happy to assist as this is simply the way our local MLS system is designed, thus it's an everyday part of our business.
After you've done a few of these exploratory trips you will want to begin narrowing your drive-by list into a viewing-list and schedule some actual home showings, yep actually begin to kick some tires. The next post in this series will elaborate on this phase further.
Elizabeth