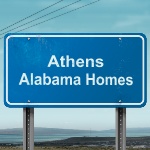 Athens Alabama is a quaint small town of 20,000 people in the center of North Alabama approximately 10 miles from both Decatur or Madison. Athens is also one of the oldest cities in the State of Alabama and as such, many homes in the central part of town are part of an historic district dating back to the antebellum period of the early to mid 1800's.
Depending on exactly where your place of employment may be Athens offers a 20 to 30 minute commute to either Decatur or Research Park in Huntsville, and many who enjoy the feel of a small town community find this commute a small price to pay.
The community is also very proud of their School System which includes Athens High School within the city limits a 6 County High Schools covering Limestone County. Athens is also home of Athens State University which is a very unique 'reverse' two year college offering Junior and Senior year academics leading to a Bachelor Degree for Community College and other University transfers.
If you are home shopping in the Athens Alabama area it would be good to have a general feel for the market in your particular price range, prior to visiting neighborhoods and viewing specific Homes. Some of the Neighborhoods you are likely to run across while in Athens at various price points include:
Utilize these links to view current listings in these neighborhoods – or visit Huntsville Alabama Homes for a more extensive property search experience.If and when you find a few homes you really like and have put together a short list, be sure to have your REALTOR® perform a Comparative Market Analysis (CMA) on your properties of interest before finalizing any offer. By taking this more detailed look into specific neighborhood mini markets you may find that the neighborhood's pricing model may vary either up or down from the average real estate prices across Athens.
Happy House Hunting – Elizabeth
Related Posts
Homes For Sale in East Huntsville
Homes For Sale in Southeast Huntsville
Homes For Sale in Southwest Huntsville
Homes For Sale in Madison
Homes For Sale Outside Madison City Limits
Homes For Sale in East Limestone County
Homes For Sale in Northeast Huntsville / Madison County