Given the recent financial system upheaval, I was anxious to look at September's sales, inventory, and pricing to see if the Huntsville Real Estate Market will show any stress and strain given recent developments. However since these events are so recent, any local effects likely won't become statistically measurable for a few months.
To summarize what September's statistics indicate, let's take a look at unit sales, raw inventory, and current home prices separately and then summarize any conclusions we are able to make:
Unit Home Sales – the Huntsville metro area's September 2008 unit sales were down ~12% when compared to September of a year ago. This year-over-year comparison is not as extensive as we have seen in recent months because data was being compared to a 12 month period where sales in the Huntsville market were at all time highs. Nonetheless, weakening sales numbers are a continuing trend which we have reported on since this time last year. The following unit sales chart illustrates this trend within September's context.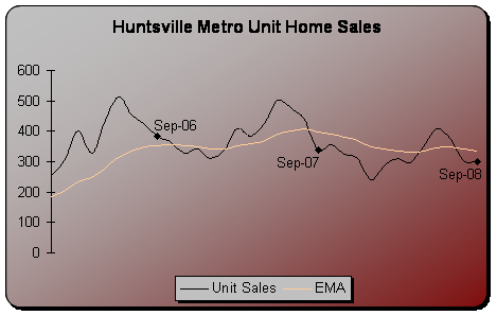 Raw Inventory – This metric is a simple unit measurement of the active listings on the MLS for the Huntsville metro area being discussed. Raw inventory for September 2008 is down ~7% when compared with September 2007. Looking at the following chart you will see that when sales were trending upward in 2006 and 2007 so was raw inventory, and when sales started declining in the later part of 2007, raw inventory began to moderate as well, although at more moderate pace than sales.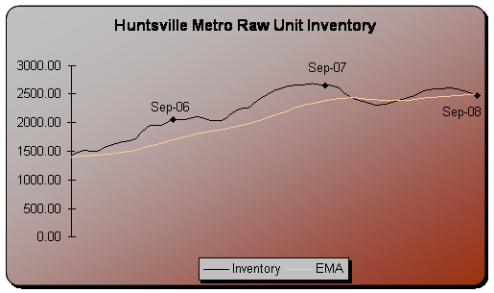 Home Prices – Home prices in Huntsville have remained strong when compared to some of the harder hit areas of the nation. In fact, September's 2008 prices are up ~2% compared with September 2007 and pricing continues to be the strong point of our local market as typified in the following price per square foot chart. However for the past2 months prices have been slightly below the moving average and are beginning to tip the moving average lower.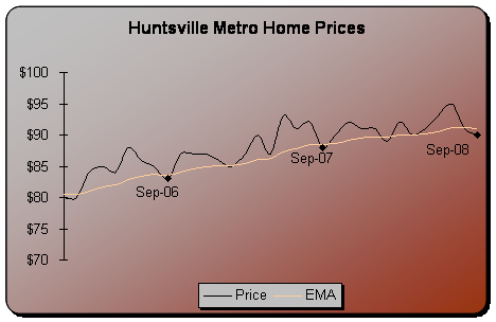 We are headed into a slower seasonal trend for Real Estate Sales in general and given recent events in the financial system, the last quarter of the year (Oct, Nov, Dec) will be of intense interest. Thus, we wish to set a baseline expectation by considering a forward looking absorption rate inventory.
Absorption rate is a metric that best indicates price pressure and is expressed in months of supply. For example; given a stable (won't grow or decline) raw inventory, a 7% sales decline trend with current year-over-year comparisons, and starting with an average monthly unit sales for this period last year yields a forward looking absorption rate inventory as follows:
2467 (current raw inventory) / (340 – (340 * 0.07) ) (projected monthly unit sales)  = 7.8 months of supply
This absorption inventory estimate is clearly in buyer market territory, but doesn't represent overly aggressive price pressure in our opinion. Nevertheless, we will be watching the market closely over the next few months as recent financial system events mandate.
As always, these statistics represent the Huntsville metro area in general and different price ranges and locations around the city are experiencing different market conditions, so always involve a professional REALTOR® whenever deciding upon an offer or listing price and they will (should) perform for you a Comparative Market Analysis using your explicit location and price range of interest.