Following an already much publicized trend, Single Family Home Sales in the Huntsville Metro Area declined in August 2008 when compared with unit sales figures of a year ago by ~32%. This year-over-year lower sales rate trend began in the Oct-Dec 2007 time frame and unit sales since this time have lowered to 2006-2005 levels.
While 2006-2007 are historically significant, in that, all time peak sales figures have been recorded in these years, the peak real estate selling season for 2008 is now behind us! Seasonal factors will once again be effecting our local market in the months ahead, and where the Huntsville Real Estate Market may go from here may be discerned by a closer examination of the following chart: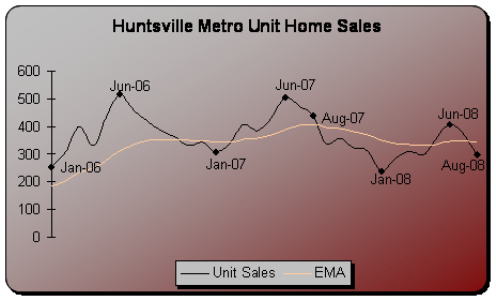 With flattened unit sales peaks in 2006-2007 (the June06-June07 comparison in the chart above), the downward year-over-year sales comparisons (the Jan-07-Jan-08 comparison), the current significant year-over-year sales decline (june07-june08 in the chart), and considering the current financial system crisis within the country, our analysis would indicate that sales rates are likely to head even lower into the upcoming holiday and winter months to 2005-2004 levels.
The fact that so much of our local real estate market is dependent on employment relocation from regions all over the United States, it is very likely that we will experience a further sales slow down in the Huntsville Real Estate Market as our client's homes from around the country, must be sold, prior to repurchasing homes in the Huntsville area.
While Huntsville has definitely fared better than many areas of the country within the current Real Estate and Financial Crisis, it is completely another topic to say that our local market has not been, or will not be, effected by national market conditions.
What will happen to inventory over the next few months? …We of course don't know for sure, prices have remained strong but months of inventory has increased in the current month and will likely increase over the next few months, thus creating a strong buyer's market into the weak seasonal months ahead.