Huntsville Alabama Real Estate prices remained seasonally strong in August 2008 with an average selling price of $218,559 and median sales price of $186,600.
When looking at the average sales price per square foot for both previously owned and newly constructed single family homes in the Huntsville Metro Area one can see a relatively flat price year-over-year with August 2008 down ~1% when compared to August of last year. The following table provides a 12 month history of the Average Home Price in the Huntsville Metro Area:
Sep
07
Oct
07
Nov
07
Dec
07
Jan
08
Feb
08
Mar
08
Apr
08
May
08
Jun
08
Jul
08
Aug
08
$88
$90
$92
$91
$91
$89
$92
$90
$91
$93
$95
$91

Last month (July 2008) Home Prices set an all time record high for our market, up over the previous peak price recorded in June 2007. Inventory and prices do fluctuate seasonally and this behavior is normal for all real estate markets, however we will be watching closely and keeping our readers updated as we head into the fall and winter seasons. For a closer look at the seasonality of the Alabama real estate market this article may prove helpful.
Pictures are worth a 1000 words, as the old saying goes, so we have provided the following chart depicting the average sales price of Huntsville Alabama Homes over the last 2 ½ years. When looking at the moving average price and trend line we see a moderate price appreciation over the last few years, yet August's results are now testing this trend and thus future posts will be watching this closely.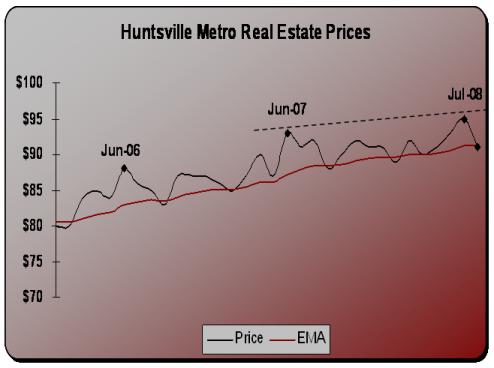 As always it is important to note that these are average prices across the metro area and prices do fluctuate greatly depending on your area of the city, neighborhood, and condition / amenities of your home of interest.
Thus whether deciding to buy or sell, it is always wise to have your REALTOR® perform a Comparative Market Analysis prior to making an offer or setting a listing price. We do offer this service completely online and free without obligation by simply utilizing this request form.
Happy Home Hunting – Elizabeth