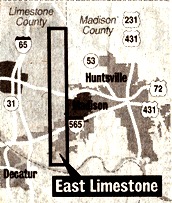 East Limestone County has experienced tremendous growth in the last few years. For example, since the year 2000 the Limestone County Commission has approved 68 new residential subdivisions with 2,342 single family lots, in this area to the west of the Huntsville and Madison city limits. This has of course drawn the attention of both cities, which have annexed 1000's of acres of East Limestone County in the past year alone.
This is a natural area for the progression of growth as it lies between the city of Athens and Interstate 65 and the cities of Huntsville and Madison. The land is much flatter than the mountain foothills to the east of Huntsville and is well suited for residential Real Estate development. One of the Madison annexed areas of Limestone County will be the home of Madison's new High School and the city of Huntsville committed to building a new K-8 School and city park as part of its recently approved 5,000 acre Limestone annexation. The unincorporated portion of the area lies within the Limestone County School District and is supported by Creekside Elementary School (k-5) and East Limestone High (6-12).
Why should you include this area on one of your House Hunting Trips?
It is an unincorporated area with metro/city conveniences. Close to major Madison shopping areas, I-565 and Hwy 72 access provides reasonable commute times, and it is conveniently located to the Huntsville-Decatur International Airport.
The property tax rates are significantly lower than the Huntsville metro area.
Average property prices per sqr/ft are less than in the major metro areas, and yet overall, long term appreciation rates are good.
Thus what we have here is a MLS area, in which, if you happen to find your dream neighborhood and home, represents an especially good value!!!
To demonstrate some of the search capabilities of our new RETS/MLS search engine, AtHomesHuntsville.com; We have put together a few custom searches to narrow this particular home search to just those areas that best characterize the criteria presented in the above list.
Some of the more well known neighborhoods in the area that you may encounter in your house hunting trip are Brentwood Village, Kingston Place, Newby Plantation, and Southern Breeze.
These particular custom searches select not only the explicit Limestone County MLS area of interest, but also filter the results to only the East Limestone High School area that borders the western Huntsville and Madison city limits respectively, further segregated into the following price ranges:
Related Posts
Homes For Sale in East Huntsville
Homes For Sale in Southeast Huntsville
Homes For Sale in Madison
Homes For Sale Outside Madison City Limits
Homes For Sale in Southwest Huntsville
Homes For Sale in Northeast Huntsville / Madison County