Outside Madison City Limits is a very interesting MLS area! It is especially unique due to its location, since the vast majority of this area's population and Neighborhoods are conveniently located within 5-10 minutes of major metro shopping and 10-20 minutes to Research Park and Redstone Arsenal, two of the main metro employment centers.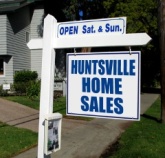 The area (commonly known as the Monrovia / Harvest area) is within the Madison County public school district with 5 elementary schools (Endeavor, Harvest, Legacy, Monrovia, and Madison Cross Roads), 2 middle schools (Monrovia, Sparkman), and Sparkman High School which has one of the largest high school student bodies in the region.
Why should you include this area on one of your House Hunting Trips?
It is an unincorporated area with metro/city conveniences. In fact, it is difficult at times to tell when you have made a turn off a major city thoroughfare and entered unincorporated Madison County.
The average lot sizes in the area are generally larger than in similar neighborhoods within the Huntsville or Madison city limits.
Average property prices per sqr/ft are slightly less than in the major metro areas, and yet overall, long term appreciation rates have remained comparable.
Thus what we have here is a MLS area, in which, if you happen to find your dream neighborhood and home, represents an especially good value!!!
To demonstrate some of the search capabilities that registered members of our new RETS/MLS search engine, AtHomesHuntsville.com will enjoy; we have put together a few custom searches to narrow this particular home search to just those areas that best characterize the criteria presented in the above list.
These particular custom searches select not only the explicit MLS area of interest, but also filter the results to only the 3 elementary schools ( Endeavor (west), Legacy (center), Monrovia(east) ) that just border the northern Huntsville and Madison city limits respectively:
Related Posts
Homes For Sale in East Huntsville
Homes For Sale in Southeast Huntsville
Homes For Sale in Madison
Homes For Sale Southwest Huntsville
Homes For Sale in East Limestone County
Homes For Sale in Northeast Huntsville / Madison County