Huntsville Metro Area
With our July 2008 sales statistics firming up, its time to take a look at the months results and monitor the trends we have been following. Our local metro market has experienced a slow down in sales over the last 9 months and July continues this trend with demand down ~23% year-over-year. However for the last three months including July we have witnessed a declining inventory trend with July's supply numbers down ~4% year-over-year.
With unit sales trending largely lower and inventory only slowing moderately, one would expect to see some weakening in price, yet the trend we have been monitoring can only be characterized as a seasonal flattening of prices. Moreover as we have written about previously, July's prices have broken out of this flattened seasonal range and are up ~3% over last month and year-over-year. Are we witnessing a return of price appreciation despite the slower sales volume?  …It's too early to tell but we will be watching closely.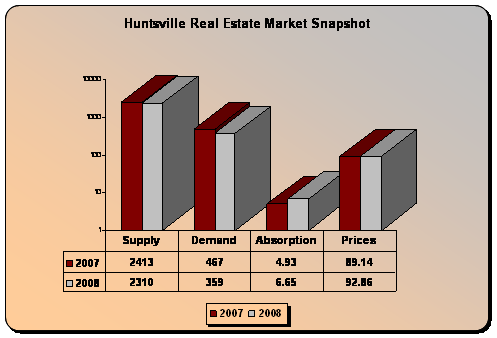 The one thing that seems abundantly clear from the stable and firm pricing is that the Huntsville Real Estate Market is a pocket of strength and can certainly be characterized as healthy. The North Alabama Region overall is not fairing as well as the Huntsville Metro Area as detailed in a recent post from one of our colleagues to the south.
It is difficult to speculate about the various reasons prices are firming despite a large slow down in demand, other than to say that Huntsville is in a unique position with the BRAC relocation slated to occur over the next few years. Thus our market does have some pent up demand, sellers know this, and are patiently standing pat on pricing contented to  endure a longer time-on-market than in previous years. Moreover the localized and recent decline in inventory is likely helping moderate the effects of the slower sales volume.