Southeast Huntsville – Multi-Family Market Segment
In this post I want to take a brief look at one of my favorite areas of town for income producing multi-family properties, and that is the Southeast Huntsville MLS Area. As many single family home shoppers know, this is one of the more popular areas of the city, with a very popular school district, and property values have been and continue to be very healthy.
When shopping for investment property there are different disciplines that must be deployed if your venture is to be a successful one. Not only does one have to look at current and expected property values and appreciation rates as is with all Single Family Home purchases, but one must also delve into the business details of such properties including rent revenues, depreciation, vacancy rates, and operation and maintenance expenditures.
First let's take a general look at the supply, demand, and pricing side of the equation for this area of the city as we would with any other property. The following chart illustrates a 5 year history of Sales, Price/SqFt, and average days-on-market (DOM). As one can see from the chart, 2005 and 2006 saw a fairly hot market in these properties in Southeast Huntsville with the average multi-family unit selling within 19 and 25 days-on-market respectively. In 2007 sales slowed to only 5 units for the year with an average of 50 days-on-market. However looking at year-to-date sales statistics for 2008, this market is heating up again and at the current sales pace will very likely outperform 2007 with current days-on-market averaging 38 days.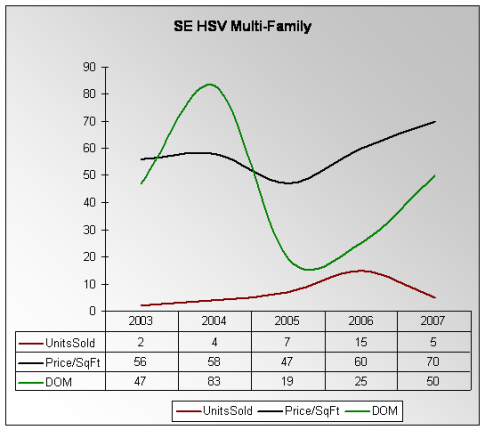 One can use the general market statistics above in helping asses an area-wide perspective but to distinguish neighborhoods within an area some further analysis is necessary. Income producing properties require much more analysis to understand current and future value than when one is buying a property to be your long-term family residence. One broad and easily used metric is the Gross Rent Multiplier (GRM). This is a simple metric taking the sales-price divided by the gross-possible-rent-income of a particular property, obviously the smaller the ratio the better. The GRM can then be used to roughly estimate the value other similar properties in the area.
The Gross Rent Multiplier (GRM) method has its limitations and when starting to filter your property selections to a just a few properties one should definitely use what is commonly know as Capitalization Rate (CapRate) calculations. This analysis will take into account selling price, gross rents, vacancy rate, operating expenses, maintenance cost, taxes, etc thus providing a more reliable estimate of value.
Unlike the GRM, the larger the CapRate is often considered better. However there is one more heads-up here; don't be surprised if the CapRate calculations differ widely from one neighborhood to another even if the neighborhoods are in the same area of town only a few miles apart. In reality the CapRate calculation often expresses investment risk such as desirability of location, level of crime, and general condition of a neighborhood. You should expect lower capitalization rates in newer or more desirable areas of a city and higher cap rates in less desirable areas to compensate for the additional risk.
So with income producing properties the standard Comparative Market Analysis (CMA) Realtors® most often use will only take you so far. Once your property search narrows to a few individual properties Capitalization Rate calculations will be necessary to help you asses cash flows, value, and market risks in making your final selection and offer price.