A Look at Inventory
We have had some improvement in Absorption Rates in the Huntsville Metro Area over the last couple of months. As readers may recall, absorption rate is a simple statistic easily calculated, and gives us a feel for what the current pricing pressure may be in a particular market segment. It basically takes the current inventory divided by current unit sales rate and eventually results in a 'months of supply' measurement.
It is a very good indicator to know, whether a buyer or seller, in a particular market segment. The MLS areas that have shown the most improvement over the last few months have been the South East and East Huntsville areas. Overall the Huntsville Metro absorption rate has gone from over 8 months supply in April to ~ 6 months of supply at the end of June.
While sales rates have shown seasonal improvement month-to-month, year-over-year sales rates are down significantly no matter the measurement tactic deployed. Thus the cause of our current inventory improvement and price stability is a combination of a seasonal sales increase and the suspension of supply growth and the small inventory decline we have seen over the last couple of months, as illustrated in the following chart.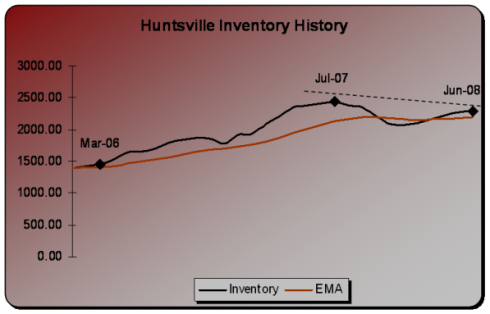 One thing of special note to keep in mind, is that these market statistics are presented within the context of the Huntsville/Madison Metro Area. The North Alabama Region is not fairing as well as the metro area. When using these indicators in setting an offer or listing price, be sure to have your REALTOR® run these numbers in a Comparable Market Analysis specific to your location of interest.