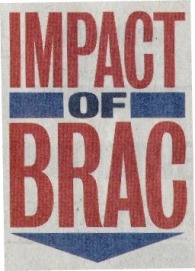 A few things have been happening in the business community as the Huntsville BRAC Relocation continues to make progress. As mentioned in previous posts construction on Redstone Arsenal has really accelerated over the last year or so, and according to the Birmingham Business Journal construction is going to continue for the next few years:
July 23, 2008 – B.L. Harbert International LLC has been awarded a $114 million contract to design and build two facilities at Huntsville's Redstone Arsenal.According to the U.S. Department of Defense, the general contractor will design and construct an Army Material Command headquarters facility and a U.S. Army Security Assistance Command facility.

Work is scheduled to be complete by January 2011, B.L. Harbert officials said.
Another company, MacAulay Brown of Dayton, Ohio has recently closed on its acquisition of a local Huntsville firm, Gray Research, which employees 186 personnel out of its Research Park location and according to the Huntsville Times:
Charlie Schwegmman, MacAulay Brown's president, said the opportunity to bolster the company's presence in Huntsville – "a robust contracting community" – was a decisive factor in the deal. He also cited the impact of BRAC, which is expected to bring about 4,700 military jobs to Redstone Arsenal.
More has been announced on BRAC employment opportunities as well. According to Transition Careers, they will be producing a Redstone Arsenal Defense Technology & Intelligence Career Fair on August 28, 2008 from 10:00am-2:00pm. Advance preparation is really going to be required to attend this Career Fair because it is being hosted on Redstone Arsenal Facilities and access credentials will be required.
If you are an existing a Government Contractor or Employee and considering a move to Huntsville this is a great opportunity for you to get your resume out in front of appropriate managers because you can preregister with an electronic copy of your Resume. In all cases those planning on attending should contact visitor control at Redstone Arsenal to verify access requirements.
As always if we can assist you in your relocation regarding anything about Huntsville Real Estate, don't hesitate to give me call at 256-425-1659 or drop me an email. – Elizabeth