July 2008 Market Update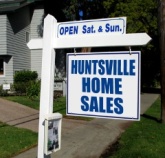 Single family Home Sales in the Huntsville metro area shot up ~28% in June in a seasonal comparison with the previous month of May. Increasing seasonal sales over the last few months and a moderate year-over-year decline in inventory has transitioned the Huntsville Real Estate Market from a traditional 'buyers' market to a 'balanced' market with a current absorption rate inventory of 5.89 months of supply.
Will the current balanced market levels continue and become a trend? We of course don't know yet, but we are encouraged by the moderate inventory improvement in the metro area over the last three months. The Huntsville market began to feel some of the stress and strain of the national mortgage crisis late in the summer of 2007 and sales have declined in a wedge pattern since that time as illustrated in the following chart: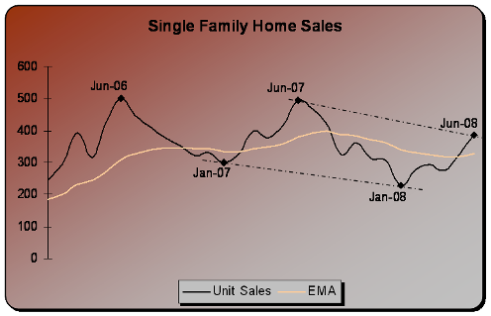 January and June's year-over-year sales declined ~21% and ~23% respectively, in effect taking the Huntsville Real Estate Market back to 2006 sales levels. Home builders and current homeowners alike appear to be moderating inventory increases, allowing seasonal sales volumes to work off some of the excess inventory. Given where we have come from since January, the metro housing market appears to be stabilizing with pricing levels seasonally flat.
Huntsville is performing better than the North Alabama MLS area in general and one can take a deeper look at a regional assessment by visiting on one of our Alabama colleague's recent blog post.