June 2008 Market Update
Those of us who follow the Huntsville Real Estate Market closely have been waiting, somewhat with baited breath, for June's sales and pricing statistics. The real estate business being as seasonal as it is, often experiences price fluctuations from highs in summer to lows in winter. In our Local Huntsville Market, June, has over the last few years established itself as the 'Seller's Month' (i.e., the month of year where prices have historically peaked)
I've added a couple of trend lines to our normal monthly price chart as follows: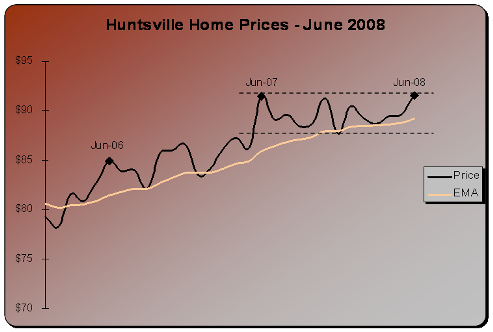 What is obvious from this visual representation is that Huntsville Real Estate Prices have definitely entered a year over year seasonal trading range with price appreciation clearly flattening. No matter how I checked this conclusion, either looking at Madison County as a whole or the greater Huntsville Metro Area, the conclusion is the same.
True there are some neighborhoods where prices are still appreciating and I also now see some areas that are experiencing year-over-year price declines, so be sure to ping me if you 're focused on a particular Huntsville Neighborhood and would like a localized update.