The simple answer is 'yes' according to a recent report issued by PMI Mortgage Insurance Co. (PMI) entitled Economic Real Estate Trends.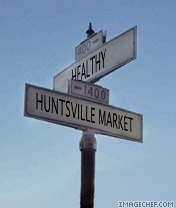 The report quotes the Office of Federal Housing Enterprise Oversight (OFHEO) saying "house prices (using the seasonally adjusted index) fell by 3.1% in the first quarter of 2008 from year earlier levels. But the one-quarter annualized decline was even worse—down by 6.7%. This was the third consecutive quarterly decline and the biggest fall in the history of the series."
PMI uses this and other data to generate their own US Market Risk Index which calculates the probability of home prices being down in two years across 381 different Metropolitan Statistical Areas (MSA) .
The Huntsville Alabama Real Estate area is characterized as being among the least likely markets to see price declines in the next 2 years. But the good news doesn't end there. The study clearly indicates that most of the nations housing woes are being experienced within those markets whose prices rose dramatically during the boom namely; California, Florida, Nevada, and Arizona thus stating the following:
But the picture of home price performance changes significantly if the 59 MSAs located in California, Florida, Nevada, and Arizona are removed from the total. Among the remaining group, 67.7 percent experienced positive price appreciation during the first quarter, averaging a 2.14 percent annualized growth rate.

In summary, the first quarter of 2008 exhibited a continuing divergence in the housing market performance for many of the nation's most troubled areas from the remainder of the nation. We see marginally increasing risk, as measured by the potential for further declines in price, primarily in those states already most affected by the downturn in housing.