Friday July 4th – Day One
What is a Stay-cation you ask? A stay at home vacation! With the price of gas sky rocketing, I am sure many families have chosen to spend the 4th of July at home this year. I can hear the voices of children, grumbling and moaning because they don't get the family fun vacation this year. Imagine this…."Kids, no vacation this year, we are going to stay at home and sight see right here". Doesn't sound very exciting, does it? Now, imagine this scenario instead: "Kids, we are going on a Stay-cation this year, right here in Huntsville, Alabama!". That sounds like an adventure in itself. Sometimes I think it is easy to forget just how much there is to do and see, right here in Huntsville! Cost of gas for your entire Stay-cation: Less than $20.00! All of my chosen destinations are right here in Huntsville.
I thought it would be fun to see how far $300 could go for a family of four, for a 3 day Stay-cation. Much to my surprise, you can do a lot! I have compiled a Stay-cation adventure, sure to please the entire family! Three days of fun, memories and family bonding, right here in Huntsville, Alabama!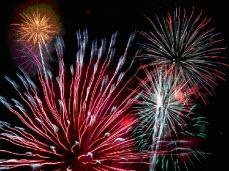 There are several annual Fireworks displays in Huntsville. My pick for this weekend is the Bridge Street Town Centre 4th of July Celebration. This is the perfect place to start your weekend Stay-cation. So, we will begin with day one and follow up with other blog posts to fill out the up coming weekend! However, don't miss the day one details that follow as they contain my very first online video production (lol) including a personal Video Tour of Bridge Street Town Centre and an interview with the gondola operator, very interesting!
Day One – Activities
The entire family will have so much fun here….A wide variety of bands will be set up all day in several areas, along with a roaming magician. A special area for kids will be open all day! Watch their faces light up with the face painting and the balloon twisters! Inflatables will be make this perfect for kids, including a water slide! Let them play in the glorious water fountains. Be sure to bring an extra set of clothing. The fireworks display begins at 8:45. Bring a blanket and sit on the bank of the 100 acre lake. I can imagine how beautiful this will be, with the fireworks reflecting off the water. Why not pack a picnic basket and eat down by the lake before the fireworks begin? All Events are FREE to the Public! Watch the kids smile as they ride the breath taking Carousel that overlooks the lake. Each ride is only $2.00. Rent a peddle boat and go for a ride. They are covered! The cost is only $34 for an hour rental or $24 for 1/2 hour. Take the family on a Gondola Ride. Cost, only $10 for adults, and $7 for kids. This is an authentic Gondola, built in Italy! Rent a remote control Sail Boat with the kids. Cost, only $10 for an hour.
When the family is ready to eat, there are so many fabulous choices. From fine dining to pizza, a wonderful meal is easy to find. My pick for the day is Ketchup! Ketchup takes classic American Cuisine and makes it hip! Kids and adults love the atmosphere. Mom and Dad are sure to love the Kool Aid Martini. The entire family can enjoy lunch for under $40. Treat the kids to Maggie Moo's ice cream. Yum! Stroll down to Monaco Pictures to see the latest movie! Cost: Matinee, $6.50 for kids, $7.00 for adults. Did I mention that Bridge Street is an outdoor shopping mall? A wide array of retail stores offer anything you need. It is SO far from a typical mall, so Dad, no worries! You can easily spend all day celebrating the 4th, from 10:00 am until the fireworks end. I did a strolling video of sorts, today at Bridge Street. I love the lake area of Bridge Street and interviewed the Gondola driver, Roberto. Amazing history and he is a Katrina survivor. The entire cost for day one: $140 (This includes lunch at Ketchup, Peddle boat rental, a Gondola ride, a matinee movie for 4, Sailboat rental, Carousel ride for 2, and Maggie Moos! For complete details about Bridge Street, including menus, shopping and movies, visit their web site: ttp://www.bridgestreethuntsville.com/default.htm and be sure to view the following Video Tour of Bridge Street Town Centre, that includes my interview with the gondola operator, very interesting!