Many people who are relocating to Huntsville decide to rent before buying and for many valid reasons. Perhaps selling your home is taking longer than planned, employment concerns may have temporarily separated working spouses in both locations, or you may wisely decide to simply live here and search the area for your ideal neighborhood.
Despite what we are reading in the national media regarding the current financial and mortgage markets, owning a home especially in a fundamentally sound market like Huntsville is still one of the best ways to build family wealth over time.
To assist those examining this option, please visit our Buy vs Rent Calculator and tryout a few different scenarios. The calculator is adjusted to the Huntsville Real Estate market and considers an average property tax rate, buying and selling closing costs, income tax deductions, mortgage insurance (PMI), home owners insurance, and more. Give it a spin using some conservative numbers and you might be surprised about how often it pays you to own vs renting.
With the BRAC relocation underway and expected to accelerate over the next 3 years there has been some activity in the business community of Huntsville to ensure that enough rental properties will be available, so no need to worry here. This issue was recently sited by the Huntsville Times as one of the big issues facing the city but apartment construction started booming in 2007 and 2008 as exemplified in the following chart.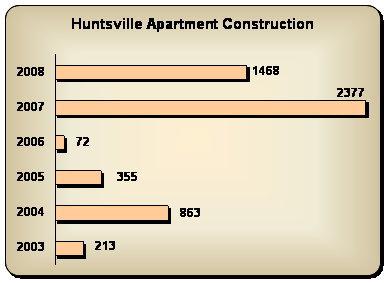 According to the David Wilson president of a commercial real estate appraisal firm that tracks the apartment market in the Huntsville area:
There is a significant amount of new construction underway and a lot of it is in anticipation of BRAC. There are about 4,200 units that are under construction or being planned. Including:

Ashbury Woods at Zierdt Rd with 372 units some ready for occupancy.
Madison Park on Slaughter Rd with 310 units some ready for occupancy.
Providence Ridge on Old Monrovia Rd with 334 units some expected to be completed this summer.
Emerald Ridge on Research Park Blvd with 344 units some expected to be completed this summer.
Huntsville Place on Sparkman Dr with 84 units and is expected house UAH students.
Sites like Apartment Finder can also be helpful in your search. But if you are looking at perhaps renting a home don't forget that our local MLS has about 500 rental properties that can be viewed and researched. Simply use the detailed search option and choose the Rental category prior to searching. As always if I can be of further service please don't hesitate to email or call me @ 256-425-1659.