Southwest Huntsville Market Conditions
To continue our monthly absorption rate studies for various Huntsville Real Estate market segments, in this post we present a current market snapshot of Southwest Huntsville. This MLS area includes several Huntsville Neighborhoods across price ranges:
$100k-$200k: Bonaire Estates, Sherwood Park, Whitesburg Estates
$200k-$300k: Reserve, Bell Grove Manner, English Village
$300k-$400k: Natures Pointe, Olde Cobblestone, Lake Forest
$400k-Up: Reserve, Lake Forest
The following table illustrates this market segment segregated further by price. Note the variety of market conditions across the various price ranges. In this localized market example we see little price pressure in the low end where supply and demand is balanced, some moderate buyer side bias in the middle, and some downward price pressure in upper end homes where inventory is currently plentiful. Note how the current monthly supply steadily increases almost proportionally with price.
Southwest Huntsville – May 2008 Market Snapshot
Price
Range
Demand
Per Month
Current
Inventory
Months
of Supply
Price/SqFt

Market
Type
$100k – $200K
17
106
6.24
$89
Balanced
$200k – $300K
10
86
8.6
$97
Buyer
$300k – $400K
6
57
9.5
$112
Buyer
$400k – $500K
2
15
7.5
$111
Buyer
$500k – $600K
1
25
25
$111
Strong Buyer
$600k & Up
.4
10
25
$145
Strong Buyer
Taking a look at an average pricing chart over the last 2 1/2 years shows some moderate home price appreciation, however like other MLS areas within Huntsville/Madison city limits, prices have basically flattened over the last year as demand has slackened and inventories have risen.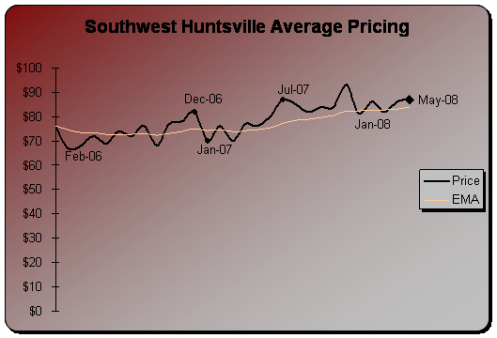 When segregating this area further into neighborhood or neighborhood-groups the absorption rate of the mini markets can be invaluable in assisting a potential seller in pricing their home. For a buyer it is always nice to know when the pricing pressure is on your side of the market. If you are currently investigating buying or selling a
Huntsville Home
and not already working with a Realtor I would certainly
welcome an opportunity to interview
for your business so don't hesitate to give me a call @ 256-425-1659.