June 2008 Market Sales Update
Those that follow the Huntsville Real Estate market know that our sales have been on the decline since the Sept/Oct 2007 timeframe. We have demonstrated in our posts over this time-period that the market's fundamentals are sound, stronger than the national trend, and yet we have been forthright regarding the technical weakness we are currently experiencing.
To emphasize why our conclusions remain unchanged lets look at a longer term sales chart and get a sense of how Huntsville Real Estate has performed throughout the national sub-prime crisis that started to materialize in downward sales and prices in many US metro areas early in 2006.
Looking at the following unit sales chart: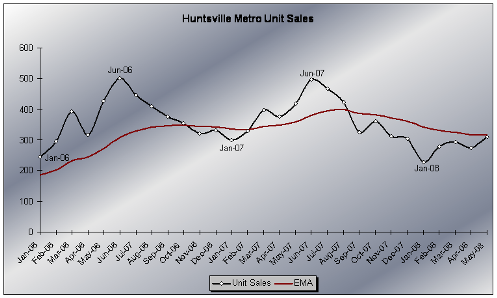 One of the first things to note is the seasonal unit sales trend ranging from lows in winter (Jan) to highs in summer (June). Looking at 2006 sales performance we see, unlike the national sales/price declines, that our local sales reached new highs in June and grew some 20% from Jan 2006 to Jan 2007.
However in the first half of 2007, things began to moderate with our unit sales peeking in June 2007 ~1% lower than the 2006 peak. The second half of the year faired even worse, with unit sales reaching a low in Jan 2008 that was ~25% lower than the 2007 low and ~10% lower than the 2006 low. In 2007 unlike the previous 4 years there were not new highs and higher lows, but lower highs and lower lows.
The year-to-date figures for 2008 again show the normal season trend of increasing sales into the summer months but sales appears to be much slower with May's year-over-year unit sales off ~30% from 2007 levels.
Our sales outlook for the next year is that growth will remain flat through 2008 and perhaps into the first half of 2009 when market fundamentals related to BRAC job growth should propel our sales higher once again. Of course the bigger question is how pricing is being effected and we will follow up with a similar chart with pricing in the coming days.
With the market showing clear signs of buyer bias we obviously think buyers will do well throughout this period and we would never shy away from buying a fundamentally sound market at a technically weak time and in fact we are personally looking to add to our own investment portfolio of residential properties during this time period. If have any questions feel free to email or give us a call 256-425-1659.