May 2008 Market Sales Snapshot
With a new month upon us (wow, they go by quickly don't they!), we can begin taking snapshots of our local Huntsville Real Estate market and get a feel for how the summer selling season is starting off.
May-August have historically been the best months of the year for our market, so we will begin our snapshot posts this month with a look at the May sales performance in the greater Huntsville metro areas. The following sales chart illustrates the Huntsville Real Estate market's current supply, demand, and absorption rate profile: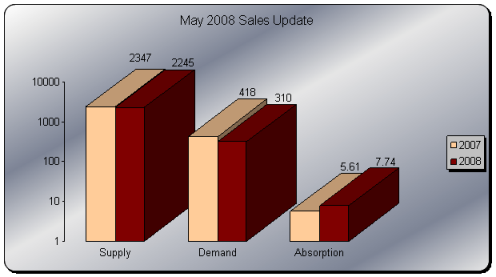 I know that subscribers of our Local-Market-Trends feed are aware that over the last 6 months our inventory has been growing and sales declining. We noted in this same snapshot in April that the inventory growth was slowing and the good news from May's snapshot is that inventory has begun to decline decreasing by ~5%. So heading in to the summer season our supply of single family homes is lower than this time last year.
Historically both inventory and sales have up-ticked in May. However this May inventory has ticked down and sales have declined year over year. Nevertheless with the supply of new and existing inventory decreasing and BRAC relocations beginning we believe that demand will likely increase over the summer months and the market will return to more historical norms.
The pricing trend has held up well, slightly off from its peak in the summer of 2007, and has been flat for the last few months. We will follow up with a May pricing post later this week to see if this trend has remained steady.
As always remember that the Huntsville market is made up of many mini-markets and conditions may be quite different in your specific price range and location of interest as exemplified in a previous post, so don't hesitate to contact us if we can be of service or give me a call 256-425-1659.